Synthesis league
Synthesis league
Challenge league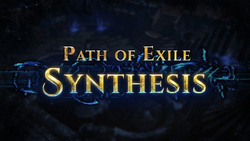 | | |
| --- | --- |
| Release version | 3.6.0 |
| Release date | 2019-03-08 |
| End date | 2019-06-03 22:00:00 UTC |
| Links | Official page |
To be forgotten... A fate worse than death. It is as though my very thoughts are breaking, fracturing into tiny splinters... There are secrets buried in my memories, exile. Important secrets ! Save these memories. Preserve them. But move swiftly... Lest you be forgotten. In Synthesis, you will encounter Cavas, recover his lost memories and chain them together to reach valuable rewards, new boss fights and crafting opportunities.

Description on the official Path of Exile website

[1]
The Synthesis league and Hardcore Synthesis league were challenge leagues.[1] They ran from March 8, 2019 to June 3, 2019.
In this league, the players will encounter Cavas and fragments of lost memories scattered across the world. Players can enter a memory that leads into a subzone, where they must move fast to stabilize and capture the crumbling memory. These memories are then used in the Memory Nexus to create paths that lead to other pieces of memory. Memories can contain fractured items that contain a permanently fixed mod. Fractured items can also be used to synthesize a new item base with a special implicit mod.
All characters and stashes were moved to Standard league and Hardcore league respectively when the leagues ended. Characters that died in the Hardcore Synthesis league were immediately moved to the permanent Standard league.
After the Leagues ended, Synthesis was not added to the core game. However, the bosses and the accompanying Synthesised uniques were made available via synthesis specific unique maps and Zana missions. Fractured items, Synthesised rare items and the Synthesiser are not available.
League mechanic
Each regular zone contains a memory sub-zone which can be entered. Once entered, the memory sub-zone will start to decay. Standing too deep within the decay will cause you to be forcibly removed from the sub-zone. To capture a memory, the player must interact with all memory stabilizers within it. Captured memories are used in the Memory Nexus to create paths between other memories. The Memory Nexus can spawn memories containing rewards, memory amplifiers that adds a zone modifier to every connected memory, and boss encounters.
Modifiers
All areas have:
Areas contain Memory Fragments
Minimap
These new icons are introduced to the minimap:

Items
Base items
The following items are/were exclusive to Synthesis league:
Item
Base Item
Stats
Ornate Quiver

Ornate Quiver

Requires Level 45Has 1 Socket
N/A
45
Has 1 Socket
Unique items
The following items are league-specific unique items as world drops.[2]
This list does not includes items exclusive from Synthesis bosses, which they are now bosses of unique synthesis maps: Altered Synthete, Augmented Synthete, Rewritten Synthete, Twisted Synthete and Venarius
Item
Base Item
Stats
Maloney's MechanismMaloney's Mechanism
Ornate QuiverRequires Level 45Has 1 SocketHas 2 Sockets
Trigger a Socketed Bow Skill when you Attack with a Bow
(7-12)% increased Attack Speed
+(50-70) to maximum Life
5% chance to Blind Enemies on Hit with AttacksMidnight tinkering begets midday murdering;
a sinister shaft surreptitiously shot slays a scoundrel.
I will see them again, but not until my work is done.
Ornate Quiver
45
Has 1 SocketHas 2 Sockets
Trigger a Socketed Bow Skill when you Attack with a Bow
(7-12)% increased Attack Speed
+(50-70) to maximum Life
5% chance to Blind Enemies on Hit with Attacks
March of the LegionMarch of the Legion
Legion BootsQuality: +20%
Armour: (384-436)
Energy Shield: (74-84)Requires Level 58, 54 Str, 54 Int+2 to Level of Socketed Aura Gems
Socketed Gems are Supported by Level 25 Blessing
(250-300)% increased Armour and Energy Shield
+(12-18)% to all Elemental Resistances
(20-30)% increased Movement Speed

When the time comes to face evil, the faithful are never alone.

Legion Boots
58
+2 to Level of Socketed Aura Gems
Socketed Gems are Supported by Level 25 Blessing
(250-300)% increased Armour and Energy Shield
+(12-18)% to all Elemental Resistances
(20-30)% increased Movement Speed
Hyrri's TruthHyrri's Truth
Jade AmuletRequires Level 64+(20-30) to DexterityGrants Level 22 Precision Skill
+(25-35) to Dexterity
Adds (12-15) to (24-28) Physical Damage to Attacks
Adds (11-15) to (23-28) Cold Damage to Attacks
+(23-28)% to Global Critical Strike Multiplier
(0.8-1)% of Physical Attack Damage Leeched as Life
Precision has 50% less Mana Reservation

Strike true, strike hard, and leave no survivors to retaliate.

Jade Amulet
64
+(20-30) to DexterityGrants Level 22 Precision Skill
+(25-35) to Dexterity
Adds (12-15) to (24-28) Physical Damage to Attacks
Adds (11-15) to (23-28) Cold Damage to Attacks
+(23-28)% to Global Critical Strike Multiplier
(0.8-1)% of Physical Attack Damage Leeched as Life
Precision has 50% less Mana Reservation
The following items are exclusive to Synthesis bosses:
Item
Base Item
Stats
Bottled FaithBottled Faith
Sulphur FlaskLasts (5.20-6.00) Seconds
Consumes 20 of 60 Charges on use
40% increased DamageRequires Level 35

Creates Consecrated Ground on Use

(30-50)% increased Duration
Consecrated Ground created by this Flask has Tripled Radius
+(1-2)% to Critical Strike Chance against Enemies on Consecrated Ground during Effect
Consecrated Ground created during Effect applies (7-10)% increased Damage taken to Enemies

A tourniquet for the soul, squeezing ethereal into physical.

Right click to drink. Can only hold charges while in belt. Refills as you kill monsters.

Sulphur Flask
35
Creates Consecrated Ground on Use(30-50)% increased Duration
Consecrated Ground created by this Flask has Tripled Radius
+(1-2)% to Critical Strike Chance against Enemies on Consecrated Ground during Effect
Consecrated Ground created during Effect applies (7-10)% increased Damage taken to Enemies
Circle of AnguishCircle of Anguish
Ruby RingRequires Level 52+(20-30)% to Fire Resistance
<One to three random Synthesis implicit modifiers>+(20-30) to Strength
Adds (20-25) to (26-35) Fire Damage
+(20-30)% to Fire Resistance
<Two Random Herald of Ash modifier>I condemned an innocent man to the pyres, but to admit this mistake is to condemn myself.
My only choice is to strive harder.
Ruby Ring
52
+(20-30)% to Fire Resistance
<One to three random Synthesis implicit modifiers>+(20-30) to Strength
Adds (20-25) to (26-35) Fire Damage
+(20-30)% to Fire Resistance

Circle of FearCircle of Fear
Sapphire RingRequires Level 52+(20-30)% to Cold Resistance
<One to three random Synthesis implicit modifiers>+(20-30) to Dexterity
Adds (20-25) to (26-35) Cold Damage
+(20-30)% to Cold Resistance
<Two Random Herald of Ice modifiers>

My subordinates circled me eternally, attuned to the slightest weakness, ready to tear me apart for their own gains.

Sapphire Ring
52
+(20-30)% to Cold Resistance
<One to three random Synthesis implicit modifiers>+(20-30) to Dexterity
Adds (20-25) to (26-35) Cold Damage
+(20-30)% to Cold Resistance

Circle of GuiltCircle of Guilt
Iron RingRequires Level 52Adds 1 to 4 Physical Damage to Attacks
<One to three random Synthesis implicit modifiers>+(10-20) to all Attributes
Adds (8-10) to (13-15) Physical Damage
+(350-400) to Armour
<Two Random Herald of Purity modifiers>I feel the moral weight of what I must to do to protect Wraeclast. I accept my guilt without shame.
It is my gift to humanity.
Iron Ring
52
Adds 1 to 4 Physical Damage to Attacks
<One to three random Synthesis implicit modifiers>+(10-20) to all Attributes
Adds (8-10) to (13-15) Physical Damage
+(350-400) to Armour


<Two Random Herald of Purity modifiers>
Herald of Purity has (40-60)% increased Buff Effect

---

Sentinels of Purity deal (70-100)% increased Damage

---

(40-60)% increased Physical Damage while affected by Herald of Purity

---

4% additional Physical Damage Reduction while affected by Herald of Purity

---

Herald of Purity has (20-15)% reduced Mana Reservation

Circle of NostalgiaCircle of Nostalgia
Amethyst RingRequires Level 52+(9-13)% to Chaos Resistance
<One to three random Synthesis implicit modifiers>+(10-20) to all Attributes
Adds (15-20) to (21-30) Chaos Damage
+(17-23)% to Chaos Resistance
<Two Random Herald of Agony modifiers>I was a happy child, before the cruel truth was revealed to me.
I fight so that the children may remain ignorant.
Amethyst Ring
52
+(9-13)% to Chaos Resistance
<One to three random Synthesis implicit modifiers>+(10-20) to all Attributes
Adds (15-20) to (21-30) Chaos Damage
+(17-23)% to Chaos Resistance


<Two Random Herald of Agony modifiers>
(40-60)% increased Chaos Damage while affected by Herald of Agony

---

+(31-43)% to Chaos Resistance while affected by Herald of Agony

---

Herald of Agony has (40-60)% increased Buff Effect

---

Agony Crawler deals (70-100)% increased Damage

---

Herald of Agony has (20-15)% reduced Mana Reservation

Circle of RegretCircle of Regret
Topaz RingRequires Level 52+(20-30)% to Lightning Resistance
<One to three random Synthesis implicit modifiers>+(20-30) to Intelligence
Adds 1 to (48-60) Lightning Damage
+(20-30)% to Lightning Resistance
<Two Random Herald of Thunder modifiers>

I sacrificed a life of love for one of responsibility, so that she, and others like her, might be kept safe.

Combine this item with two Rare Fractured items of the same item class at the Synthesiser in the Memory Nexus
Topaz Ring
52
+(20-30)% to Lightning Resistance
<One to three random Synthesis implicit modifiers>+(20-30) to Intelligence
Adds 1 to (48-60) Lightning Damage
+(20-30)% to Lightning Resistance

Garb of the EphemeralGarb of the Ephemeral
Savant's RobeQuality: +20%
Energy Shield: (327-381)
Movement Speed: -3%Requires Level 56, 600 Str, 752 Int

<One to three random Synthesis implicit modifiers>

(180-230)% increased Energy Shield
+600 Strength and Intelligence Requirement
Gain a Divine Charge on Hit
+10 to maximum Divine Charges
You gain Divinity for 10 seconds on reaching maximum Divine Charges
Lose all Divine Charges when you gain Divinity
Nearby Allies' Action Speed cannot be modified to below base value
Nearby Enemies cannot deal Critical StrikesExceptional men and women of strong will can flicker a spark,
but something much greater is needed to unleash the wildfire of true divine flames.
Savant's Robe
56
<One to three random Synthesis implicit modifiers>(180-230)% increased Energy Shield
+600 Strength and Intelligence Requirement
Gain a Divine Charge on Hit
+10 to maximum Divine Charges
You gain Divinity for 10 seconds on reaching maximum Divine Charges
Lose all Divine Charges when you gain Divinity
Nearby Allies' Action Speed cannot be modified to below base value
Nearby Enemies cannot deal Critical Strikes
Offering to the SerpentOffering to the Serpent
Legion GlovesQuality: +20%
Armour: (278-329)
Energy Shield: (54-64)Requires Level 57, 44 Str, 44 Int

<One to three random Synthesis implicit modifiers>

+(15-25) to all Attributes
(150-200)% increased Armour and Energy Shield
50% reduced Maximum Recovery per Life Leech
(6-10)% increased Attack and Cast Speed
(15-25)% increased Damage while Leeching
Life Leech effects are not removed at Full Life"You covet the strength of your peers, mortal?
Perhaps it can be yours, if you are willing to make an offering of their blood..."
- Vaal Myth of the Third Snake
Legion Gloves
57
<One to three random Synthesis implicit modifiers>+(15-25) to all Attributes
(150-200)% increased Armour and Energy Shield
50% reduced Maximum Recovery per Life Leech
(6-10)% increased Attack and Cast Speed
(15-25)% increased Damage while Leeching
Life Leech effects are not removed at Full Life
Mask of the TribunalMask of the Tribunal
Magistrate CrownQuality: +20%
Armour: (432-512)
Energy Shield: (83-99)Requires Level 58, 64 Str, 64 Int

<One to three random Synthesis implicit modifiers>

+(25-30) to all Attributes
(150-200)% increased Armour and Energy Shield
Nearby Allies have (4-6)% increased Defences per 100 Strength you have
Nearby Allies have +(6-8)% to Critical Strike Multiplier per 100 Dexterity you have
Nearby Allies have (2-4)% increased Cast Speed per 100 Intelligence you have
1% reduced Mana Reserved per 250 total Attributes

The judge determines worthiness by comparison to the paragon: himself.

Magistrate Crown
58
<One to three random Synthesis implicit modifiers>+(25-30) to all Attributes
(150-200)% increased Armour and Energy Shield
Nearby Allies have (4-6)% increased Defences per 100 Strength you have
Nearby Allies have +(6-8)% to Critical Strike Multiplier per 100 Dexterity you have
Nearby Allies have (2-4)% increased Cast Speed per 100 Intelligence you have
1% reduced Mana Reserved per 250 total Attributes
Storm's GiftStorm's Gift
Assassin's MittsQuality: +20%
Evasion: (384-436)
Energy Shield: (74-84)Requires Level 58, 45 Dex, 45 Int

<One to three random Synthesis implicit modifiers>

(20-30)% increased Damage over Time
(250-300)% increased Evasion and Energy Shield
+(20-30)% to Lightning Resistance
Enemies you kill are Shocked
Shocks you inflict spread to other Enemies within a Radius of 15

The power of lightning is a power best shared.

Assassin's Mitts
58
<One to three random Synthesis implicit modifiers>(20-30)% increased Damage over Time
(250-300)% increased Evasion and Energy Shield
+(20-30)% to Lightning Resistance
Enemies you kill are Shocked
Shocks you inflict spread to other Enemies within a Radius of 15
PerepiteiaPerepiteia
Ezomyte Spiked ShieldQuality: +20%
Chance to Block: 25%
Evasion: (760-941)
Energy Shield: (147-182)
Movement Speed: -3%Requires Level 62, 85 Dex, 85 Int2% chance to Dodge Spell Hits
<One to three random synthesis implicit modifiers>+(1-3) to Level of Socketed Lightning Gems
Triggers Level 20 Lightning Aegis when Equipped
(1-20)% increased Attack Speed
(1-20)% increased Cast Speed
(300-400)% increased Evasion and Energy Shield
+(1-75) to maximum Mana
(1-20)% increased Movement SpeedSomething within the machine never stops moving,
but Oriathan scholars dare not open it to find out why.
Ezomyte Spiked Shield
62
2% chance to Dodge Spell Hits
<One to three random synthesis implicit modifiers>+(1-3) to Level of Socketed Lightning Gems
Triggers Level 20 Lightning Aegis when Equipped
(1-20)% increased Attack Speed
(1-20)% increased Cast Speed
(300-400)% increased Evasion and Energy Shield
+(1-75) to maximum Mana
(1-20)% increased Movement Speed
NebulisNebulis
Void SceptreSceptre
Quality: +20%
Physical Damage: 60–91.2
Critical Strike Chance: 6.20%
Attacks per Second: 1.25
Weapon Range: 11Requires Level 68, 104 Str, 122 Int40% increased Elemental Damage
<One to three random synthesis implicit modifiers>(15-20)% increased Cast Speed
(15-20)% increased Cold Damage per 1% Cold Resistance above 75%
(15-20)% increased Lightning Damage per 1% Lightning Resistance above 75%

The vastness of the cosmos holds energies beyond comprehension, should one have the fortitude to grasp them.

Void Sceptre
68
40% increased Elemental Damage
<One to three random synthesis implicit modifiers>(15-20)% increased Cast Speed
(15-20)% increased Cold Damage per 1% Cold Resistance above 75%
(15-20)% increased Lightning Damage per 1% Lightning Resistance above 75%
Challenges and rewards
The Synthesis leagues include 40 optional challenges. Completing them awards the following microtransactions:
Version history
| Version | Changes |
| --- | --- |
| 3.6.0 | |
References