Consider helping out in updating the wiki for 3.12.0 - see Path of Exile Wiki:To-do list/3.12.0.
Game data exports will becoming later as the technical changes in addition to regular changes take some more time.
Spider Forest Map (Original)
| | |
| --- | --- |
| | This article describes historical game content. |
Spider Forest Map
Map Level: 69
Map Tier: 4
Guild Character: Ó
Travel to this Map by using it in the Templar Laboratory or a personal Map Device. Maps can only be used once.
Acquisition
Level: 69
DROP DISABLED
Purchase Costs
Sell Price
1x Scroll Fragment
Miscellaneous
Item class: Maps
Metadata ID: Metadata/Items/Maps/MapTier4_5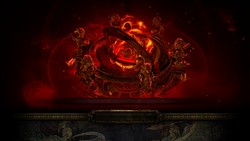 Other versions
Version history
Version
Changes
3.6.0

The Atlas of Worlds has been shuffled. Most maps have changed tier and location within the Atlas.

3.5.0

The Atlas of Worlds has been shuffled. Most maps have changed tier and location within the Atlas.
Many map bosses have also shifted around. Some have been retired and replaced!

3.1.0

Added 32 new maps including two new Unique maps.
The entire Atlas has been reworked. Many map names have changed, as have their balance, tier and position on the Atlas. Many maps have also had their boss fights swapped or completely reworked.
The rules used to generate monsters in endgame maps have been significantly reworked and rebalanced around the rate at which we expect players to reliably clear out the map. In general, narrow, linear maps will contain fewer total monsters than maps with complex layouts. We will be closely monitoring and adjusting the balance of this change and expect to make further changes and improvements over time.

2.4.0

New map series was introduced: Spider Forest Map

Spider Forest Map

Map Level: 73
Map Tier: 6
Guild Character: Z

Travel to this Map by using it in the Templar Laboratory or a personal Map Device. Maps can only be used once.

2.0.0

New map series was introduced: Spider Forest Map

Spider Forest Map

Map Level: 71
Map Tier: 4
Guild Character: Z

Travel to this Map by using it in the Templar Laboratory or a personal Map Device. Maps can only be used once.

Unknown
1.0.3

The Blacksmith's (Dunes and Spider Forest Maps) Leap Slam

Leap Slam

Attack, AoE, Movement, Travel, Slam, Melee
Radius: 15
Mana Cost: 10
Cast Time: 1.40 secRequires Level 10

Jump into the air, damaging and knocking back enemies with your weapon where you land. Enemies you would land on are pushed out of the way. Requires an Axe, Mace, Sceptre, Sword or Staff. Cannot be supported by Multistrike.

Per 1% Quality:

1

2

3

4

1% increased Stun Duration on enemies

1% increased Area of Effect

1% increased Damage

0.5% increased Attack Speed

Deals (100-120)% of Base Attack Damage
+0.55 seconds to Attack Time
(20-39)% increased Stun Duration against Enemies that are on Full Life
Damaging Hits always Stun Enemies that are on Full Life

Place into an item socket of the right colour to gain this skill. Right click to remove from a socket.

has been given a cooldown and a new triggered effect has been added to it.

0.11.0

The Blacksmith (the boss of the Dunes and Spider Forest maps) has been redesigned with new stats, skills and AI.

0.10.0

The following Map areas have been updated so that they're substantially different in layout to before: Spider Forest

Spider Forest Map

Map Level: 69
Map Tier: 4
Guild Character: Ó

Travel to this Map by using it in the Templar Laboratory or a personal Map Device. Maps can only be used once.

, Jungle Valley

Jungle Valley Map

Map Level: 72
Map Tier: 7
Guild Character: 3

Travel to this Map by using it in the Templar Laboratory or a personal Map Device. Maps can only be used once.

, Waste Pool

Waste Pool Map

Map Level: 72
Map Tier: 7
Guild Character: 1

Travel to this Map by using it in the Templar Laboratory or a personal Map Device. Maps can only be used once.

, Dry Woods

Ashen Wood Map

Map Level: 71
Map Tier: 6
Guild Character: Œ

Travel to this Map by using it in a personal Map Device. Maps can only be used once.

, Cemetery

Cemetery Map

Map Level: 67
Map Tier: 2
Guild Character: C

Travel to this Map by using it in the Templar Laboratory or a personal Map Device. Maps can only be used once.

, Mine

Flooded Mine Map

Map Level: 72
Map Tier: 7
Guild Character: 2

Travel to this Map by using it in the Templar Laboratory or a personal Map Device. Maps can only be used once.

, Underground Sea

Underground Sea Map

Map Level: 74
Map Tier: 9
Guild Character: 9

Travel to this Map by using it in the Templar Laboratory or a personal Map Device. Maps can only be used once.

, Bog

Bog Map

Map Level: 70
Map Tier: 5
Guild Character: Ú

Travel to this Map by using it in the Templar Laboratory or a personal Map Device. Maps can only be used once.

, Plateau

Plateau Map

Map Level: 75
Map Tier: 10
Guild Character: )

Travel to this Map by using it in the Templar Laboratory or a personal Map Device. Maps can only be used once.

and Dunes

Dunes Map

Map Level: 66
Map Tier: 1
Guild Character: U

Travel to this Map by using it in the Templar Laboratory or a personal Map Device. Maps can only be used once.

.

Unknown