Consider helping out in updating the wiki for 3.12.0 - see Path of Exile Wiki:To-do list/3.12.0.
Game data exports will becoming later as the technical changes in addition to regular changes take some more time.
Secluded Canal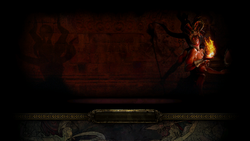 Secluded Canal is a Vaal side area that can be found in Oriath Square, The Ruined Square, The Ravaged Square, The Canals, The Feeding Trough, and in map.
Monsters
Items found in this area
Item
The Cataclysm

The Cataclysm

13

Level 21 Spell Gem
Corrupted

The mighty warriors traded in blows, the nimble archers in arrows, yet it was the brazen thaumaturgists who would bring catastrophe to all.

1
Gallery
Version history
| Version | Changes |
| --- | --- |
| 3.0.0 | |