Consider helping out in updating the wiki for 3.12.0 - see Path of Exile Wiki:To-do list/3.12.0.
Game data exports will becoming later as the technical changes in addition to regular changes take some more time.
Scribe's Rack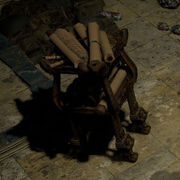 A Scribe's Rack is a loot container that can be found in The Catacombs, The Library and other areas, that use library tileset. It is possible for multiple scribe's racks to spawn in an instance, or for none to spawn at all.[1] By looting a rack, the player can obtain
Scrolls of WisdomScroll of WisdomStack Size: 40Identifies an itemRight click this item then left click an unidentified item to apply it.
Shift click to unstack.
,
Portal ScrollsPortal ScrollStack Size: 40Creates a portal to townRight click on this item to use it.
Shift click to unstack.
, and sometimes maps.
Version history
| Version | Changes |
| --- | --- |
| 0.10.8 | |
References