Consider helping out in updating the wiki for 3.12.0 - see Path of Exile Wiki:To-do list/3.12.0.
Game data exports will becoming later as the technical changes in addition to regular changes take some more time.
The Sceptre of God

The pinnacle of power. The height of hubris.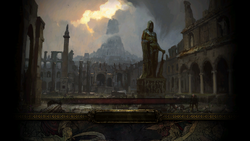 The Sceptre of God is an area in Act 3. This area has a waypoint and is connected to The Imperial Gardens and The Upper Sceptre of God.
The ground floor entrance has a statue of the thaumaturgist Malachai. There are three floors in this area, each shaped like a circle, and the waypoint is in a random room on the third floor.
Quests
Monsters
Items found in this area
Item
The Drunken Aristocrat

The Drunken Aristocrat

8

Divination Distillate

The finer the brew, the harder it is to remember drinking it.

1
The Tower

The Tower

6

Staff

A tower built of the strongest stone is not eternal; a towering intellect is not enlightened.

1
Lore
Version History