Consider helping out in updating the wiki for 3.12.0 - see Path of Exile Wiki:To-do list/3.12.0.
Game data exports will becoming later as the technical changes in addition to regular changes take some more time.
As part of the Unified Community Platform project, your wiki will be migrated to the new platform in the next few weeks. Read more here.
Renegades Cache
Renegades Cache
Strongbox
Guarded by 3 packs of Monsters
(80 to 100)% increased Quantity of Contained Items
+(3 to 5) Chest level
Guarded by a Renegade Warband
Contains an additional Renegade Unique Item
As if pulled by divine strings, the powerful are drawn to the powerful, breaking any morals and laws that might stand in the way.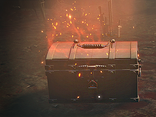 Renegades Cache is a unique Strongbox. It is guarded by a Renegade Warband.
List of Renegade unique items
The PariahThe Pariah
Unset RingRequires Level 60Has 1 Socket+2 to Level of Socketed Gems
(5-10)% increased Attack and Cast Speed
+100 to Maximum Life per Red Socket
+100 to Maximum Mana per Green Socket
+100 to Maximum Energy Shield per Blue Socket
15% increased Item Quantity per White SocketA man who changes his loyalties often,
soon finds he has none.
Steppan EardSteppan Eard
Sorcerer BootsQuality: +20%
Energy Shield: (117-158)Requires Level 67, 123 Int+(20-30) to maximum Energy Shield
(50-80)% increased Energy Shield
30% increased Movement Speed
20% increased Movement Speed on Shocked Ground
50% increased Damage on Burning Ground
Regenerate 2% of Life per second on Chilled Ground
Unaffected by Desecrated GroundTo fight an enemy on their lands is a tactical mistake.
Make those lands your own, and the mistake becomes theirs.
Broken FaithBroken Faith
Archon Kite ShieldQuality: +20%
Chance to Block: 12%
Armour: 187
Energy Shield: 36
Movement Speed: -3%Requires Level 68, 85 Str, 85 Int+12% to all Elemental Resistances0.4% of Chaos Damage Leeched as Life
-10% Chance to Block
100% increased Global Armour while you have no Energy Shield
You have Unholy Might while you have no Energy Shield
Create Profane Ground instead of Consecrated Ground

Be not blinded by the light.
Version history
| Version | Changes |
| --- | --- |
| 2.3.0 | |