Rebirth (divination card)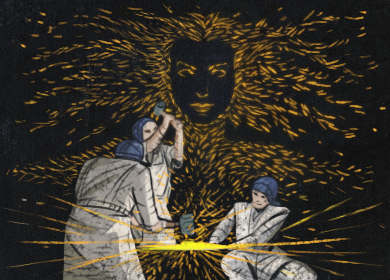 Rebirth27
Charan's Sword
He shattered Her smile
Scattered the fragments like ash
All she did was laughAcquisition
Level: 1
The Battlefront • The Slave Pens • The Ruined Square • The Desecrated Chambers • The Control Blocks (Act 10) • The Reliquary (Act 10) • The Ossuary (Act 10) • The Broken Bridge (Act 7) • The Crypt (Act 7) • The Ashen Fields • The Bath House • The Blood Aqueduct • The Vastiri Desert • The Oasis • The Foothills • The QuarrySell Price
1x Scroll FragmentMiscellaneous
Item class: Divination Card
Metadata ID: Metadata/Items/DivinationCards/DivinationCardRebirth
Rebirth is a divination card. A set of 27 can be exchanged for a random unique
Charan's SwordCharan's SwordOne Handed Sword
Physical Damage: 5–11
Critical Strike Chance: 5.00%
Attacks per Second: 1.45
Weapon Range: 11Requires Level 2, 9 Str, 9 Dex40% increased Global Accuracy Rating
. The actual item received from the exchange is always
Oni-GoroshiOni-Goroshi
Charan's SwordOne Handed Sword
Quality: +20%
Physical Damage: 6–13.2
Critical Strike Chance: (8.50%-9.50%)
Attacks per Second: 1.45
Weapon Range: 11Requires Level 2, 9 Str, 9 Dex40% increased Global Accuracy RatingUses both hand slots
(70-90)% increased Critical Strike Chance
Adds 2 to 3 Physical Damage to Attacks per Level
Gain Her Embrace for 3 seconds when you Ignite an Enemy
While in Her Embrace, take 0.5% of your total Maximum Life and Energy Shield as Fire Damage per second per Level
Item has 6 Sockets and is fully linked (Hidden)"Your name is Demon Slayer? Really? Good name for rotgut, that."
She said: I prefer "The Goddess Of Swords". Much more dignified. And accurate.
"Demon Slayer The Cheap And Nasty it is then. Burns going down, burns coming up?"
She said: Every single time, Charan. And still...you'll bathe me, and you'll drink my love. Until you can't.
, since Charan's Sword is a base item that was created specifically for Oni-Goroshi and no other unique items.[1]
Notes
"Drops from: *most core zones in parts 1 and 2* (nothing sealed like the belly of the beast or otherworldly like Maligaro's Sanctum. Basically, anywhere 'in' Wraeclast.)"[2]
Item acquisition
Area restrictions
This item can be acquired in the following areas:

Upgrade paths
This item can be acquired through the following upgrade paths or vendor recipes:

Amount
Ingredient
General
Notes
Type
5
The Gambler

The Gambler

5

Divination Card

"I don't believe in karma. If it were real, I would never win."

random divination card
Automatic
1
Stacked Deck

Stacked Deck

Stack Size: 10

A stack of unknown divination cards

Right click to take a divination card out of the deck.
Shift click to unstack.
random divination card
Automatic
Usage in upgrade paths
This item is used by upgrade paths or vendor recipes to create the following items:

Outcome
Amount
Ingredient
Ingredient
Notes
Type
Oni-GoroshiOni-Goroshi
Charan's SwordOne Handed Sword
Quality: +20%
Physical Damage: 6–13.2
Critical Strike Chance: (8.50%-9.50%)
Attacks per Second: 1.45
Weapon Range: 11Requires Level 2, 9 Str, 9 Dex40% increased Global Accuracy RatingUses both hand slots
(70-90)% increased Critical Strike Chance
Adds 2 to 3 Physical Damage to Attacks per Level
Gain Her Embrace for 3 seconds when you Ignite an Enemy
While in Her Embrace, take 0.5% of your total Maximum Life and Energy Shield as Fire Damage per second per Level
Item has 6 Sockets and is fully linked (Hidden)"Your name is Demon Slayer? Really? Good name for rotgut, that."
She said: I prefer "The Goddess Of Swords". Much more dignified. And accurate.
"Demon Slayer The Cheap And Nasty it is then. Burns going down, burns coming up?"
She said: Every single time, Charan. And still...you'll bathe me, and you'll drink my love. Until you can't.
27
Rebirth

Rebirth

27

Charan's SwordHe shattered Her smile
Scattered the fragments like ash
All she did was laugh

unique Charan's Sword

Manual
Version history
| Version | Changes |
| --- | --- |
| 3.1.1c | |
References