Promenade Map (War for the Atlas)
Promenade MapMap Level: 78
Map Tier: 11
Guild Character: ;Travel to this Map by using it in the Templar Laboratory or a personal Map Device. Maps can only be used once.
Acquisition
Level: 78
DROP DISABLEDSell Price
1x Scroll FragmentMiscellaneous
Item class: Maps
Metadata ID: Metadata/Items/Maps/MapWorldsPromenade
Even the greatest achievements will eventually be abandoned.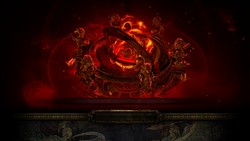 Promenade Map (War for the Atlas) is a map area based on The Battlefront.
Layout
The map is a long linear path with a low and a high ground running parallel to each other. The map bosses don't have a separate arena, and wait at the end of the map.
Encounters
Boss
This map has two bosses.
Unique Bosses
Blackguard Avenger, based on Captain Arteri.
Blackguard Tempest, unique Blackguard Mage.
Strategy
Contrary to their unremarkable looks, the two bosses are capable of extremely high damage output. Lightning Thorns should always be approached with appropriate care. However the true danger poses the Blackguard Avengers Double Strike, which can even tear through tankier characters within mere moments. A potential stun-lock because of the powerful hits and resulting inability to act is a lethal threat. High defenses against physical damage are advised, otherwise the boss should absolutely be kited, which, luckily, is easy due to its lack of a gap-closing ability. One should also be aware that the duo is encountered at the very end of the map and because of their appearance it is easy to overlook them between other mobs, which can be a deadly mistake.
Boss video
Items found in this area
Item
The Carrion Crow

The Carrion Crow

4

Life ArmourFrom death, life.
From life, death.
The wheel turns,
and the corbies wheel overhead.
1
Gemcutter's Promise

Gemcutter's Promise

3

Superior Gem


Quality:

+20%

"I swore to use my position to help the people. What good is power when it just accumulates on the already-powerful?" - Erasmus, Imperial Gemcutter

1
Jack in the Box

Jack in the Box

4

ItemTurn the crank,
close your eyes,
and pray to the gods
for a pleasant surprise.
1
The Gambler

The Gambler

5

Divination Card

"I don't believe in karma. If it were real, I would never win."

1
The Encroaching Darkness

The Encroaching Darkness

8

Map
Corrupted

No matter where your dreams take you, Nightmare follows close behind.

1
The Trial

The Trial

7

Map


Map Tier:

15


Corrupted

You cannot journey to new lands until you have the courage to leave the safety of home.

1
The Traitor

The Traitor

4

Wand
CorruptedSometimes an apprentice becomes a master through countless hours of hard work and practice.
Sometimes it happens by force.
1
Her Mask

Her Mask

4

Sacrifice FragmentTo her beauty you submit,
lest your neck the great Queen slit.
1
Crystal Belt

Crystal Belt

Requires Level 79+(60-80) to maximum Energy Shield
79
Two-Toned Boots

Two-Toned Boots

Evasion: 126
Energy Shield: 24Requires Level 70, 62 Dex, 62 Int+(8-12)% to Cold and Lightning Resistances
70
Steel Ring

Steel Ring

Requires Level 80Adds (3-4) to (10-14) Physical Damage to Attacks
80
Struck by Lightning

Struck by Lightning

3

Electrocuting Jewellery


Item Level:

76

'Lightning never strikes the same place twice'
is really just wishful thinking.
1
Item acquisition
This item is drop disabled.
Upgrade paths
This item can be acquired through the following upgrade paths or vendor recipes:

Amount
Ingredient
Type
3
Precinct Map

Precinct Map

Map Level: 77
Map Tier: 10
Guild Character: :

Travel to this Map by using it in the Templar Laboratory or a personal Map Device. Maps can only be used once.

Manual
Usage in upgrade paths
This item is used by upgrade paths or vendor recipes to create the following items:

Outcome
Amount
Ingredient
Type
Racecourse Map

Racecourse Map

Map Level: 79
Map Tier: 12
Guild Character: «

Travel to this Map by using it in the Templar Laboratory or a personal Map Device. Maps can only be used once.

3
Promenade Map

Promenade Map

Map Level: 78
Map Tier: 11
Guild Character: ;

Travel to this Map by using it in the Templar Laboratory or a personal Map Device. Maps can only be used once.

Manual
Unique versions
Item
Hall of GrandmastersHall of Grandmasters
Promenade MapMap Level: 78
Map Tier: 11
Guild Character: ÙContains the Immortalised Grandmasters
PvP damage scaling in effectThe grandest and greatest ever to fight,
Divine the champions stand tall.
But match their power, best their might,
And even the immortal may fall.

Travel to this Map by using it in the Templar Laboratory or a personal Map Device. Maps can only be used once.

1
Other versions
Version history
Version
Changes
3.6.0

The Atlas of Worlds has been shuffled. Most maps have changed tier and location within the Atlas.

3.5.0

The Atlas of Worlds has been shuffled. Most maps have changed tier and location within the Atlas.
Many map bosses have also shifted around. Some have been retired and replaced!

3.1.0

Added 32 new maps including two new Unique maps.
The entire Atlas has been reworked. Many map names have changed, as have their balance, tier and position on the Atlas. Many maps have also had their boss fights swapped or completely reworked.
The rules used to generate monsters in endgame maps have been significantly reworked and rebalanced around the rate at which we expect players to reliably clear out the map. In general, narrow, linear maps will contain fewer total monsters than maps with complex layouts. We will be closely monitoring and adjusting the balance of this change and expect to make further changes and improvements over time.

1.0.0e

Promenade maps now upgrade to a Villa map.

0.10.1