Consider helping out in updating the wiki for 3.12.0 - see Path of Exile Wiki:To-do list/3.12.0.
Game data exports will becoming later as the technical changes in addition to regular changes take some more time.
Premium Stash Tab
Premium Stash Tab
Account Features

Add an extra premium tab to your shared stash. Premium tabs can have their name and colour changed whenever you want.
Premium stash tabs can be listed as public, allowing them to integrate with community trade tools.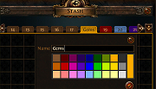 The Premium Stash Tab can be purchased in the shop for 40 points, or upgraded from an existing regular stash tab for 15 points. These tabs can be made public, which makes them accessible to third-party trading websites.[1]
Version history
| Version | Changes |
| --- | --- |
| 2.1.2e | Premium stash tabs can now be set as "public", which makes them accessible to third-party trading websites. |
| 0.10.0 | |
References
↑ Jonathan (Mar 1, 2016). "1.3.0 Patch Notes". Official Path of Exile Forums. Retrieved July 16, 2017.
↑ Premium Stash Tabs were teased in an official video on 5th December 2012