Port Map
Port Map
Map Level: 72
Map Tier: 5
Guild Character: e
The wealthy foolishly battle the ocean for domain.
Travel to this Map by using it in a personal Map Device. Maps can only be used once.
Additional Information
Region Upgrades Chart
Upgrade Level
0
1
2
3
4
Tier
5
8
11
13
15
Map Level
72
75
78
80
82
Connections
Alleyways Map (Heist)
✓
✗
✗
✗
✗
Bone Crypt Map (Heist)
✓
✓
✓
✓
✓
Infested Valley Map (Heist)
✓
✗
✗
✗
✗
Malformation Map (Heist)
✗
✓
✓
✓
✓
Ramparts Map (Heist)
✓
✓
✓
✓
✓
Sunken City Map (Heist)
✗
✗
✗
✓
✓
Toxic Sewer Map (Heist)
✓
✗
✗
✗
✗
Waste Pool Map (Heist)
✗
✓
✓
✓
✓
Acquisition
Level: 71
Purchase Costs
Sell Price
1x Scroll Fragment
Miscellaneous
Item class: Maps
The wealthy foolishly battle the ocean for domain.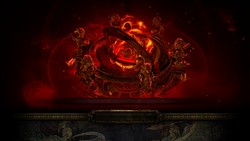 Layout
Encounters
Boss
Boss video
Items found in this area
Item
Jack in the Box

Jack in the Box

4

ItemTurn the crank,
close your eyes,
and pray to the gods
for a pleasant surprise.
1
Lucky Connections

Lucky Connections

7

20x Orb of Fusing

Luck is a fool's game, and I know plenty of rich fools.

1
The Gambler

The Gambler

5

Divination Card

"I don't believe in karma. If it were real, I would never win."

1
The Pact

The Pact

9

Pledge of Hands

"On this day I mark the first of many agreements that I will have with this land and its people."

1
Assassin's Favour

Assassin's Favour

9

DaggerBy the time their eyes meet,
the dark deal has long since been made,
and his fate long since sealed.
1
Her Mask

Her Mask

4

Sacrifice FragmentTo her beauty you submit,
lest your neck the great Queen slit.
1
The Saint's Treasure

The Saint's Treasure

10

2x Exalted Orb

Publicly, he lived a pious and chaste life of poverty. Privately, tithes and tributes made him and his lascivious company very comfortable indeed.

1
Convoking Wand

Convoking Wand

Wand
Physical Damage: 30–56
Critical Strike Chance: 7.00%
Attacks per Second: 1.40
Weapon Range: 120Requires Level 72, 242 IntCan roll Minion Modifiers
72
Cerulean Ring

Cerulean Ring

Requires Level 80(8-10)% increased maximum Mana
80
Item acquisition
Upgrade paths
This item can be acquired through the following upgrade paths or vendor recipes:

Amount
Ingredient
General
Notes
Type
3
Cartographer's Delight

Cartographer's Delight

3

Map


Map Tier:

5

A map is similar
to a pair of eyes,
without one you stumble
around, unable to find your way.
random tier 5 map
Automatic
4
Boundless Realms

Boundless Realms

4

Map

Boundless is the distance between where we start and where we start again.

random Map
Automatic
6
The Explorer

The Explorer

6

Map
Corrupted

A map is only useful if you know where you stand.

random corrupted Map
Automatic
Unique versions
There are currently no unique items for this base item type.
Version history
Version
Changes
3.5.0

The Atlas of Worlds has been shuffled. Most maps have changed tier and location within the Atlas.
Many map bosses have also shifted around. Some have been retired and replaced!

3.1.0

Added 32 new maps including two new Unique maps.
The entire Atlas has been reworked. Many map names have changed, as have their balance, tier and position on the Atlas. Many maps have also had their boss fights swapped or completely reworked.
The rules used to generate monsters in endgame maps have been significantly reworked and rebalanced around the rate at which we expect players to reliably clear out the map. In general, narrow, linear maps will contain fewer total monsters than maps with complex layouts. We will be closely monitoring and adjusting the balance of this change and expect to make further changes and improvements over time.

3.0.0

The Quay map has been renamed Port.

2.4.0

We've added thirty new maps and dozens of new map bosses.