Consider helping out in updating the wiki for 3.12.0 - see Path of Exile Wiki:To-do list/3.12.0.
Game data exports will becoming later as the technical changes in addition to regular changes take some more time.
Plaza Map (The Awakening)
Plaza MapMap Level: 81
Map Tier: 14
Guild Character: :Travel to this Map by using it in the Templar Laboratory or a personal Map Device. Maps can only be used once.
Acquisition
Level: 81
DROP DISABLEDSell Price
1x Scroll FragmentMiscellaneous
Item class: Maps
Metadata ID: Metadata/Items/Maps/Map2Tier14_5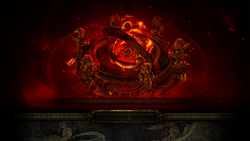 Plaza Map (The Awakening) is a map.
Walkthroughs
Items found in this area
Item
The Gambler

The Gambler

5

Divination Card

"I don't believe in karma. If it were real, I would never win."

1
Item acquisition
This item is drop disabled.
Upgrade paths
This item can be acquired through the following upgrade paths or vendor recipes:

Amount
Ingredient
Type
3
Caldera Map

Caldera Map

Map Level: 82
Map Tier: 15
Guild Character: µ

Travel to this Map by using it in the Templar Laboratory or a personal Map Device. Maps can only be used once.

Manual
Other versions