Consider helping out in updating the wiki for 3.12.0 - see Path of Exile Wiki:To-do list/3.12.0.
Game data exports will becoming later as the technical changes in addition to regular changes take some more time.
Pen Map
Pen Map
Map Level: 70
Map Tier: 3
Guild Character: b
Slaves held like cattle. A blood-soaked revolution, just waiting to happen.
Travel to this Map by using it in a personal Map Device. Maps can only be used once.
Additional Information
Region Upgrades Chart
Upgrade Level
0
1
2
3
4
Tier
3
6
10
12
14
Map Level
70
73
77
79
81
Connections
Core Map (Harvest)
✗
✗
✓
✓
✓
Lair Map (Harvest)
✓
✓
✓
✓
✗
Terrace Map (Harvest)
✓
✓
✓
✓
✓
Acquisition
Level: 69
Purchase Costs
Sell Price
1x Scroll Fragment
Miscellaneous
Item class: Maps
Slaves held like cattle. A blood-soaked revolution, just waiting to happen.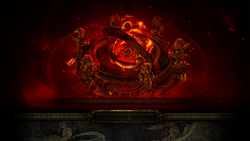 Layout
Encounters
Boss
Boss video
Items found in this area
Item
The Chains that Bind

The Chains that Bind

11

Six-Link Body Armour

Scarier than any criminal is an innocent man in chains, for when he breaks free, his revenge will be justified.

1
The Warden

The Warden

4

Amulet


Corrupted

Brutus' first innovation as Lord Incarcerator was a weighted chain around every neck so that his prisoners would forever bow to him.

1
The Gambler

The Gambler

5

Divination Card

"I don't believe in karma. If it were real, I would never win."

1
Her Mask

Her Mask

4

Sacrifice Fragment

To her beauty you submit,
lest your neck the great Queen slit.
1
Gripped Gloves

Gripped Gloves

Evasion: 220Requires Level 70, 95 Dex(14-18)% increased Projectile Attack Damage
70
Spiked Gloves

Spiked Gloves

Armour: 220Requires Level 70, 95 Str

(16-20)% increased Melee Damage

70
The Master

The Master

4

Bisco's Collar

In a world filled with chaos, he could always seek comfort in the hands of his master.

1
Cerulean Ring

Cerulean Ring

Requires Level 80(8-10)% increased maximum Mana
80
Item acquisition
Upgrade paths
This item can be acquired through the following upgrade paths or vendor recipes:

Amount
Ingredient
General
Notes
Type
4
Boundless Realms

Boundless Realms

4

Map

Boundless is the distance between where we start and where we start again.

random Map
Automatic
6
The Explorer

The Explorer

6

Map


Corrupted

A map is only useful if you know where you stand.

random corrupted Map
Automatic
Unique versions
There are currently no unique items for this base item type.
Version history
Version
Changes
3.6.0

The Atlas of Worlds has been shuffled. Most maps have changed tier and location within the Atlas.

3.5.0

The Atlas of Worlds has been shuffled. Most maps have changed tier and location within the Atlas.
Many map bosses have also shifted around. Some have been retired and replaced!

3.1.2

Reduced the damage of Storm Burst

Storm Burst

AoE, Spell, Lightning, Channelling, Duration, Physical
Mana Cost: (2-5)
Cast Time: 0.25 sec
Critical Strike Chance: 6.00%
Effectiveness of Added Damage: 25%Requires Level 12

Unleash orbs of energy while you channel that repeatedly jump towards the targeted location until their duration expires, dealing damage in small area after each jump. When you stop channelling, all remaining orbs explode, dealing higher damage in a larger area.

Per 1% Quality:
0.5% increased Area of EffectBase duration is 1.2 seconds
Deals (6-114) to (8-171) Physical Damage
Exploding Orbs deal 75% of Skill Damage for each 0.4 seconds of remaining Duration
50% of Physical Damage Converted to Lightning Damage
Orbs jump every 0.4 seconds
+(0-2) to radius

Place into an item socket of the right colour to gain this skill. Right click to remove from a socket.

projectiles used in the Pen boss encounter.
Increased the damage of Storm Burst explosions used in the Pen boss encounter.

3.1.1

Disabled the Pen Map from being able to spawn as a Zana mission as it wasn't completable with the "Kill Corrupted Bosses" mission.

3.1.0