Consider helping out in updating the wiki for 3.12.0 - see Path of Exile Wiki:To-do list/3.12.0.
Game data exports will becoming later as the technical changes in addition to regular changes take some more time.
Olmec's Sanctum (The Awakening)
Olmec's Sanctum
Bone Crypt Map
Map Level: 73
Map Tier: 6
Guild Character: $
Item Quantity: (+120%-+200%)
(40-50)% more Monster Life
(30-40)% increased Monster Damage
Final Boss drops higher Level Items
They flew, and leapt, and clambered over,
They crawled, and swam, and slithered under.
Still its ancient secrets await unclaimed
And of this hidden temple, only legends remain.
Travel to this Map by using it in the Templar Laboratory or a personal Map Device. Maps can only be used once.
Acquisition
DROP DISABLED
Purchase Costs
Sell Price
6x Alchemy Shard
Miscellaneous
Item class: Maps
Olmec's Sanctum
Map area, Unique Map area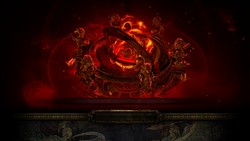 Area has increased monster variety