Consider helping out in updating the wiki for 3.12.0 - see Path of Exile Wiki:To-do list/3.12.0.
Game data exports will becoming later as the technical changes in addition to regular changes take some more time.
Noticeboard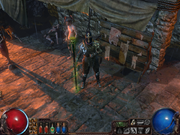 The town of each act has a Noticeboard. Clicking on the Noticeboard will open the player's Social panel and switch to the Public Parties tab, enabling them to see what public parties are currently in progress and to join one.
The red symbol prominently drawn on one of the notes is a Descry.