Consider helping out in updating the wiki for 3.12.0 - see Path of Exile Wiki:To-do list/3.12.0.
Game data exports will becoming later as the technical changes in addition to regular changes take some more time.
Maze Map (War for the Atlas)
Maze MapMap Level: 72
Map Tier: 5
Guild Character: lTravel to this Map by using it in the Templar Laboratory or a personal Map Device. Maps can only be used once.
Acquisition
Level: 72
DROP DISABLEDSell Price
1x Scroll FragmentMiscellaneous
Item class: Maps
Metadata ID: Metadata/Items/Maps/MapWorldsMaze
| | |
| --- | --- |
| Id | MapWorldsMaze |
| Act | 11 |
| Area level | 72 |
| Bosses | Shadow of the Vaal |
| Area type tags | dungeon, temple |
| Tags | indoors_area, map, einharmaps, vaal_pyramid_area |
| | The Shaper: They live trapped forever in darkness and confusion. We are no different. |
| Vaal Areas | Forbidden Chamber (MapSideArea2_8) |
They live trapped forever in darkness and confusion. We are no different.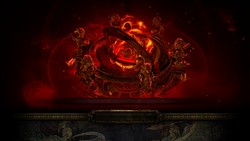 Maze Map (War for the Atlas) is a map area based on the tileset from The Vaal Ruins.
Layout
Like the name suggests, the map is a large maze of interconnected rooms and corridors frequently leading to dead ends. The map boss has no separate arena, but is found in a large room filled with swirls of black smoke.
Encounters
Boss
Shadow of the Vaal based on Vaal Oversoul. He uses the same skills, without significant differences - they are similarly slow and well-telegraphed, but deal quite heavy damage on hit.
He does not have a separate arena, being located in the corner of the main map.
If killed with a Divine Vessel active on the map, his soul upgrades the Soul of Solaris pantheon power.
Boss video
Items found in this area
Item
The Gambler

The Gambler

5

Divination Card

"I don't believe in karma. If it were real, I would never win."

1
The Inventor

The Inventor

6

10x Vaal OrbJump right in,
But beware
Of things broken
Or beyond compare.
1
The Catalyst

The Catalyst

3

Vaal Orb

Simple actions can lead the world to an early grave.

1
Her Mask

Her Mask

4

Sacrifice FragmentTo her beauty you submit,
lest your neck the great Queen slit.
1
Fingerless Silk Gloves

Fingerless Silk Gloves

Energy Shield: 43Requires Level 70, 95 Int(12-16)% increased Spell Damage
70
Vanguard Belt

Vanguard Belt

Requires Level 78+(260-320) to Armour and Evasion Rating
78
Opal Ring

Opal Ring

Requires Level 80(15-25)% increased Elemental Damage
80
The Admirer

The Admirer

9

Atziri Item

Lucian lost himself in ancient scrolls and found in those scrolls a love whose power bridged a millennium.

1
Item acquisition
This item is drop disabled.
Upgrade paths
This item can be acquired through the following upgrade paths or vendor recipes:

Amount
Ingredient
Type
3
Grotto Map

Grotto Map

Map Level: 71
Map Tier: 4
Guild Character: h

Travel to this Map by using it in the Templar Laboratory or a personal Map Device. Maps can only be used once.

Manual
Usage in upgrade paths
This item is used by upgrade paths or vendor recipes to create the following items:

Outcome
Amount
Ingredient
Type
Underground Sea Map

Underground Sea Map

Map Level: 73
Map Tier: 6
Guild Character: q

Travel to this Map by using it in the Templar Laboratory or a personal Map Device. Maps can only be used once.

3
Maze Map

Maze Map

Map Level: 72
Map Tier: 5
Guild Character: l

Travel to this Map by using it in the Templar Laboratory or a personal Map Device. Maps can only be used once.

Manual
Unique versions
Item
Doryani's MachinariumDoryani's Machinarium
Maze MapMap Level: 80
Map Tier: 5
Guild Character: ‹
Item Quantity: (+40%-+60%)
Item Rarity: (+40%-+60%)(20-50)% increased Experience gain
Monster Level: 80
Found Items have a 10% chance to drop Corrupted in Area
Unique Boss is augmented by Player choices

We are ever the makers of our own undoing.

Travel to this Map by using it in the Templar Laboratory or a personal Map Device. Maps can only be used once.

1
Other versions
Version history
Version
Changes
3.5.0

The Atlas of Worlds has been shuffled. Most maps have changed tier and location within the Atlas.
Many map bosses have also shifted around. Some have been retired and replaced!

3.1.0

Added 32 new maps including two new Unique maps.
The entire Atlas has been reworked. Many map names have changed, as have their balance, tier and position on the Atlas. Many maps have also had their boss fights swapped or completely reworked.
The rules used to generate monsters in endgame maps have been significantly reworked and rebalanced around the rate at which we expect players to reliably clear out the map. In general, narrow, linear maps will contain fewer total monsters than maps with complex layouts. We will be closely monitoring and adjusting the balance of this change and expect to make further changes and improvements over time.

2.4.0

Most existing maps have been revamped to have more balanced monster composition, layouts, boss fights and rewards.
(undocumented) Name changed from Conservatory Map to Maze Map.

2.0.0

Maps from the old progression no longer drop. They can be played to find maps from the new progression.

1.0.2