Consider helping out in updating the wiki for 3.12.0 - see Path of Exile Wiki:To-do list/3.12.0.
Game data exports will becoming later as the technical changes in addition to regular changes take some more time.
Maelström of Chaos (Original)
Maelström of Chaos
Atoll Map
Map Level: 67
Map Tier: 2
Guild Character: Ç
Item Quantity: (+40%-+60%)
Item Rarity: (+200%-+400%)
Area has patches of Chilled Ground
20 patches with Ground Effect per 100 tiles (Hidden)
Ground Effect has a radius of 14 (Hidden)
Monsters deal 50% extra Physical Damage as Lightning
Monsters are Immune to randomly chosen Elemental Ailments or Stun
Monsters' Melee Attacks apply random Hexes on Hit
Monsters Reflect Hexes
Whispers from a world apart
Speak my name beyond the tomb;
Bound within the Maelström's heart,
Will they grant me strength or doom?
Travel to this Map by using it in the Templar Laboratory or a personal Map Device. Maps can only be used once.
Acquisition
DROP DISABLED
Purchase Costs
Sell Price
12x Alchemy Shard
Miscellaneous
Item class: Maps
Maelström of Chaos
Map area, Unique Map area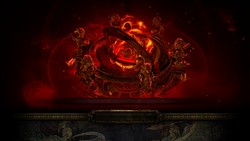 Version history
Version
Changes
3.9.0

The Atlas of Worlds has been reworked. You now start at the centre and will work your way outwards as you explore a new storyline.
Added a new mechanic - Watchstones: These can only be obtained by defeating one of the new Atlas bosses. They can be used to raise the tier of all maps in a particular region of the Atlas, causing all maps of those base types to drop at the new higher tier.
Unique maps can now drop with varied tiers based on the state of your Atlas. Maps that previously had monster level overrides (such as Hallowed GroundHallowed Ground
Cemetery MapMap Level: (73-79)
Map Tier: 12
Guild Character: Ð
Item Quantity: +100%
Item Rarity: +100%Monster Level: (73-79)
Unique Boss drops 3 additional Maps
Unique Boss gives 2000% increased Experience
0.5 Flask Charges recovered every 3 secondsSome dead have long envied the living.
When given the chance, they take from us what they can.
So we offer our suffrage.
In return, they give only suffering.

Travel to this Map by using it in the Templar Laboratory or a personal Map Device. Maps can only be used once.

) now instead rely on the variable tier.

3.5.0

The Atlas of Worlds has been shuffled. Most maps have changed tier and location within the Atlas.
As part of this Atlas shuffle, many maps have been reviewed with the goal of bringing their layouts or monster densities up to par with other maps.
(Not in patch notes) The Atlas will now be shuffled every league.

3.3.0d

Incursions can no longer spawn in the Maelström of Chaos unique map.

3.1.0
2.4.0
2.3.0

Fixing a bug where Maelström monsters could get Soul Conduit and other mods which did not work with them.

2.0.0
1.2.4

Fixed a bug where rocks could spawn in the boss room in the Maelstrom of Chaos unique map. Merveil could teleport inside of them and become trapped.

1.2.0

Updated to the new Merveil fight.

0.10.3

Introduced to the game as unique item.

0.9.11

Removed the Maelstrom of Chaos. It has been replaced by our Maps end-game. For more information about Maps, please read the development diary entry on our site.

0.9.5g

Changed all Maelstrom of Chaos levels to be level 58.

0.9.5e

Added the new Ancient Pyramid monsters to the Maelstrom of Chaos.

0.9.5

We're now biasing towards higher item base types extremely strongly for most item types. This means that it's much easier to stay up to date with the current highest item type for each slot. For example, if a bow drops in the Maelstrom of Chaos, there's a ~40% chance that it's the level 58 bow.

0.9.3f

Fixed some more problems with the beach levels

0.9.3e

Reduced the frequency of rare monsters by 20%.
Slightly increased the difficulty of monsters

0.9.2b

Removed Mud Flats ambient sounds from all Maelstrom of Chaos areas.

0.9.1

Fixed a crash that occured if you kill a Shield Crab on level 6-20 of the Maelström of Chaos.

?

Introduced to the game as area