Consider helping out in updating the wiki for 3.12.0 - see Path of Exile Wiki:To-do list/3.12.0.
Game data exports will becoming later as the technical changes in addition to regular changes take some more time.
List of unique monsters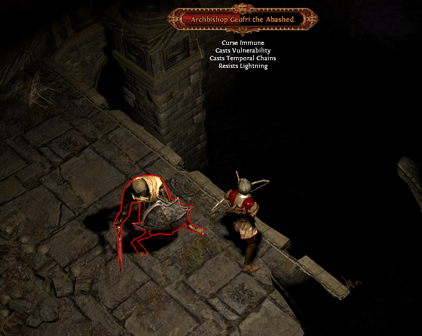 Unique Monsters are special monsters with fixed modifiers that appear always in the same zone.
Listed below are only the unique monsters that are part of the main storyline. Map bosses, Invasion Bosses, Corrupted Area bosses, summoned monsters during Izaro fights, Beyond Demons, Tormented Spirits and Rogue Exiles also have a rarity of unique, but are not featured in this list.
Act and map bosses have 60% less Curse Effect.
Act 1
Act 2
Act 3
Act 4
Act 5
Act 6
Act 7
Act 8
Act 9
Act 10
Endgame Bosses
Version history