Consider helping out in updating the wiki for 3.12.0 - see Path of Exile Wiki:To-do list/3.12.0.
Game data exports will becoming later as the technical changes in addition to regular changes take some more time.
As part of the Unified Community Platform project, your wiki will be migrated to the new platform in the next few weeks. Read more here.
Gardens Map
Gardens Map
Map Level: 70
Map Tier: 3
Guild Character: J
Vibrant colours dash across the grey, consuming Man's work.
Travel to this Map by using it in a personal Map Device. Maps can only be used once.
Additional Information
Region Upgrades Chart
Upgrade Level
0
1
2
3
4
Tier
3
7
10
12
15
Map Level
70
74
77
79
82
Connections
Ancient City Map (Harvest)
✓
✓
✓
✓
✓
Channel Map (Harvest)
✓
✓
✗
✗
✗
Crimson Temple Map (Harvest)
✗
✗
✓
✓
✓
Mesa Map (Harvest)
✓
✓
✓
✓
✓
Acquisition
Level: 69
Purchase Costs
Sell Price
1x Scroll Fragment
Miscellaneous
Item class: Maps
Id
MapWorldsGardens
Act
11
Area level
74
Bosses
Sallazzang
Sallazzang
Area type tags
forest, swamp
Tags
map, area_with_water, einharmaps, garden_area
The Shaper: Vibrant colours dash across the grey, consuming Man's work.
Vibrant colours dash across the grey, consuming Man's work.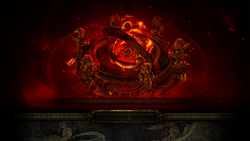 Layout
The layout is similar to the Imperial Gardens (or the removed area The Hedge Maze) of Act 3, as well as some areas of The Lord's Labyrinth.
Boss room
The boss has a separate boss room in rectangular shape. The arena is a patio with an inner square surrounded by columns. There is a pool in the middle. Similar to Yugul, Reflection of Terror boss encounter of Act 8, the boss may retreated to the pool temporarily. Also similar to the boss fight of Ryslatha, the Puppet Mistress of Act 6, the boss room has pots that spawn adds.
Corners provide cover from enemies, while the edges of the square consist of railings that can be shot over. Each edge has at least one passage between the inner and the outer part of the arena.
Encounters
Boss
Sallazzang, a unique Plumed Chimeral.
Boss video
Items found in this area
Item
The Gambler

The Gambler

5

Divination Card

"I don't believe in karma. If it were real, I would never win."

1
The Encroaching Darkness

The Encroaching Darkness

8

Map


Corrupted

No matter where your dreams take you, Nightmare follows close behind.

1
The Trial

The Trial

7

Map




Map Tier:

15


Corrupted

You cannot journey to new lands until you have the courage to leave the safety of home.

1
Bone Helmet

Bone Helmet

Armour: 197
Energy Shield: 38Requires Level 73, 76 Str, 76 IntMinions deal (15-20)% increased Damage
73
Steel Ring

Steel Ring

Requires Level 80Adds (3-4) to (10-14) Physical Damage to Attacks
80
The Porcupine

The Porcupine

6

Six-Link Short Bow




Item Level:

50

The first quill separates the quick learners from the dead.

1
The Easy Stroll

The Easy Stroll

2

Terrace Map


Modifiers:

8


Corrupted"I'm going for a walk. I'll be back soon."

- Blonca's last words
1
Item acquisition
Upgrade paths
This item can be acquired through the following upgrade paths or vendor recipes:

Amount
Ingredient
General
Notes
Type
4
Boundless Realms

Boundless Realms

4

Map

Boundless is the distance between where we start and where we start again.

random Map
Automatic
6
The Explorer

The Explorer

6

Map


Corrupted

A map is only useful if you know where you stand.

random corrupted Map
Automatic
Unique versions
There are currently no unique items for this base item type.
Version history
Version
Changes
3.11.0

Map tiers and locations have been shuffled (though the 'pin' locations for maps has not changed). Most maps are now initially found at a different tier. Unique maps have not moved or changed tiers.

3.9.0

The Atlas of Worlds has been reworked. You now start at the centre and will work your way outwards as you explore a new storyline.
Added a new mechanic - Watchstones: These can only be obtained by defeating one of the new Atlas bosses. They can be used to raise the tier of all maps in a particular region of the Atlas, causing all maps of those base types to drop at the new higher tier.
(Not in patch notes) Gardens Map now has T9, 12, 13 and 16 variants.

3.7.3

Fixed a bug where the Gardens Map boss would not transition correctly if healed as a result of a Shaper event.
Fixed a bug where the Gardens Map boss did not drop items.

3.7.0

The boss fight in the Gardens Map has been completely reworked. Monsters spawned during phase transitions will grant items and experience when slain.

3.5.0

The Atlas of Worlds has been shuffled. Most maps have changed tier and location within the Atlas.
(Not in patch notes) The Atlas will now be shuffled every league.

3.1.0

The entire Atlas has been reworked. Many map names have changed, as have their balance, tier and position on the Atlas. Many maps have also had their boss fights swapped or completely reworked.
(Not in patch notes) Gardens Map (formerly Terrace Map) swapped the name with Terrace Map (formerly High Gardens Map)
The rules used to generate monsters in endgame maps have been significantly reworked and rebalanced around the rate at which we expect players to reliably clear out the map. In general, narrow, linear maps will contain fewer total monsters than maps with complex layouts. We will be closely monitoring and adjusting the balance of this change and expect to make further changes and improvements over time.

2.4.0

Introduced a new series of maps
Most existing maps have been revamped to have more balanced monster composition, layouts, boss fights and rewards.

2.1.0

The Terrace and Mine maps now generate with better pathing and more consistent layouts.
Sallazzang (the Terrace Map boss) no longer performs its "machine gun ethereal knives" skill, as it was unfair to players. Sallazang instead spawns more devourers.

2.0.3

The Labyrinth end-game map has been renamed to Terrace.

2.0.0

We have introduced a new series of maps. You can recognise these by their volcanic KaruiStone art rather than the old grey tablets.

1.0.4

Sallazzang in the Labyrinth now correctly spawns with a magic monster pack in addition to the normal Devourers that spawn in his arena every few seconds.

1.0.2

Removed Devourers as the signature monster in the Labyrinth Map.

?