Labyrinth Enchantment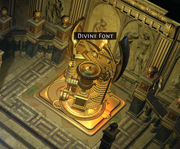 Labyrinth enchantments are a type of enchantment that can be obtained from the Labyrinth. Completing the Labyrinth will allow embuing one piece of equipment with a random enchantment. In the normal Labyrinth, only gloves can be enchanted. In the Cruel Labyrinth, both gloves and boots can be enchanted and in Merciless and Eternal Labyrinths, helmets, gloves and boots can be enchanted. In the Eternal Labyrinth using a
Dedication to the GoddessDedication to the GoddessBefore the Goddess, nothing remains hidden.
Adversity reveals old flaws and new strengths.Travel to the Aspirants' Plaza and spend this item to open the Eternal Labyrinth of Potential. You must have completed the six different Trials of Ascendancy found in Maps in order to access this area.
, helmets, gloves, boots, and belts can be enchanted. In each successive Labyrinth, higher-tier versions of the enchantments from the previous Labyrinth become available.
Enchantments are added by using the
EnchantEnchantStack Size: 9Adds an enchantment to an item, or replaces an existing enchantmentLeft click on the skull and then left click on the item you wish to modify.
Shift click to unstack.
currency item found in the divine font at the end of the Labyrinth and applying it to an item.
Glove enchantments
Gloves can be enchanted with effects that trigger a Word skill during combat. Word skills cannot be modified by support gems, and have a short cooldown between activation. Glove enchantments come in four tiers, based on difficulty: Words for normal, Edicts for cruel, Decrees for merciless, and Commandment for endgame labyrinth. Higher difficulties result in stronger Word skills.
List of enchantment modifiers that can spawn on gloves.
Boot enchantments
Boots can have enchantments with effects that conditionally benefit the player in combat, such as triggering when hit or not having taken damage recently.
List of enchantment modifiers that can spawn on boots.
Helmet enchantments
Helmets can be enchanted to have effects that benefit a specific skill. There are two or three of these skill-specific stats for every player skill, amounting to 1,193 in total. The Vaal version of a specific skill is also affected.[1]
List of enchantment modifiers that can spawn on helmets.
Legacy helmet enchantments
Belt enchantments
Belts can have enchantments with conditional effects based around a status effect, such as blind, Arcane Surge, and consecrated ground.
List of enchantment modifiers that can spawn on belts. It can only be acquired from the Eternal Labyrinth of Potential
Gallery
Version history
Version
Changes
3.11.0

(Undocumented) Added Labyrinth Belt enchantments. You can obtain these from the Eternal Labyrinth using the Dedication to the Goddess.

3.8.0

Added more Labyrinth enchantments for new skills, as well as on boots.
The Labyrinth Helmet Enchantment for Desecrate which granted increased Cooldown Reduction now instead grants increased Duration at the same value. This affects existing items with this enchantment. This enchantment can no longer be obtained from the Labyrinth.
The Labyrinth Boots Enchantments which previously granted Life and Mana Leech if you have Killed Recently now instead just grant Life Leech.
The Labyrinth Boots Enchantments which previously granted Life and Mana Regeneration if you have been Hit Recently now instead just grant Life Regeneration.
The Labyrinth Helmet Enchantment for Tornado Shot which added additional secondary projectiles is now exclusively available from the Eternal Labyrinth, and now only adds one additional secondary projectile. Existing items with this enchantment are unaffected.
Added a new set of Labyrinth Boots Enchantments which grant increased Mana Regeneration Rate if you have cast a Spell Recently.

3.7.0

The Immortal Call enchantment which previously granted a chance to not consume endurance charges now grants increased Immortal Call duration per endurance charge consumed. This affects items that had the previous enchantment.

3.6.0

Enchantments (such as those found from the Labyrinth) now have their own mod slot on items. They no longer use the Implicit mod slot.
Enchantments for Storm Burst which previously added additional projectiles now instead grant a chance to create an extra orb.

3.5.0

Added Labyrinth enchantments for the new and reworked skills.
Molten Strike Labyrinth Helmet enchantments now grant 1 additional projectile from the Merciless Labyrinth (down from 2) and 2 additional projectiles from the Eternal Labyrinth (down from 3).
Tectonic Slam Labyrinth Helmet enchantments now grant increased chance to Charged Slam, rather than granting a chance to not consume an endurance charge, at half of the original enchantment's values.
Disabled the Ice Spear Labyrinth Helmet enchantments that increase the damage dealt by Ice Spear. Existing items with this enchantment will go unchanged, but this enchantment cannot appear on any more items.
Disabled the Vortex Labyrinth Helmet enchantments that increase the base radius of Vortex. Existing items with this enchantment will go unchanged, but this enchantment cannot appear on any more items.

3.4.0

Added 22 new Labyrinth enchantments, including 2 for existing skills.
Trigger supports, triggered skills (including Labyrinth Enchantments), and skills triggered by an item effect (such as Poet's Pen) all now deal 80% less damage against players.

3.3.0

Added 39 new Labyrinth Enchantments for existing skills, and 43 for new skills. Enchantments for existing skills which have undergone significant reworking may not appear any more due to mechanical changes making them nonfunctional, such as enchantments which modify the cooldown of trap skills. Existing versions of these enchantments will now grant increased damage with that skill at the same value.
The Merciless and Eternal Labyrinth Arc enchantments that grant additional chains now grants +1 to chain from the Merciless Labyrinth (down from 2) and +2 chains in the Eternal Labyrinth (down from +3).
The Merciless and Eternal Labyrinth Bear Trap enchantments that grant increased cooldown recovery speed now grant half as much.
The Merciless and Eternal Labyrinth Charged Dash enchantments that grant added radius to the skill's final area of effect now grants +4 radius from the Merciless Labyrinth (down from +6) and +6 radius from the Eternal Labyrinth (down from +9).
Disabled the "Avoid Stun While Casting Storm Burst" enchantment from appearing.
Disabled the "Reduced Ball Lightning Projectile Speed" enchantment from appearing.

3.1.4
3.1.2

Added new helmet enchantments for Bodyswap and Despair. These are available from the Divine Font in the Merciless and Eternal Labyrinths.
Fixed a bug where players were sometimes able to get too many enchantments from a Divine Font in the Labyrinth.
Fixed a bug where the "x% increased Frenzy Damage per Frenzy Charge" enchantment would not apply to ailments applied by Frenzy.

3.1.1c

The Volatile Dead Helmet enchantment that destroyed additional corpses was destroying more corpses than was originally intended. The enchantment will now only be available from the Eternal Labyrinth and all existing versions of this enchantment will be changed so that Volatile Dead can only destroy up to 1 additional corpse, down from 2/3 additional corpses.
Fixed a bug where Molten Strike with gloves with an "on hit" enchantment cause desync.

3.1.0

The helmet enchantment which grants additional projectiles for Barrage has been removed from the Merciless Labyrinth. The Eternal Labyrinth Barrage enchantment now grants one additional projectile (down from 2).

3.0.0

Added a warning message when attempting to put a Labyrinth Enchantment on an item that already has an implicit mod (as it will overwrite that mod).
Labyrinth helmet enchantments for Summon Skeleton now grant a 20/40% chance to summon an additional Skeleton minion. This applies to existing Labyrinth enchantments.
The helmet Labyrinth enchantments for Lightning Trap Pierce Chance now grant +2 Pierces from the Merciless Labyrinth, and +3 Pierces from the Endgame Labyrinth.
The helmet Labyrinth enchantments for Lightning Strike Pierce Chance now grant +2 Pierces from the Merciless Labyrinth, and +3 Pierces from the Endgame Labyrinth.
The helmet Labyrinth enchantments for Glacial Cascade now grant 30% and 40% Physical to Cold Conversion.
The Labyrinth enchantments Word/Edict/Decree/Commandment of Fury pierce 2, 3, 4 and 5 targets respectively.

2.5.1c

Fixed a client crash with the "of Reflection" enchantments when used in a party.
Fixed a bug with the "of Reflection" enchantments, which were not visibly performing attacks.

2.5.0

Fixed the "Elemental Hit has +x% chance to Freeze, Shock and Ignite" enchantment that claimed it was for Burning Arrow.
Fixed a bug where the enchantment for "Increased Critical Strike Chance if you haven't Crit Recently" wasn't working.

2.4.1
2.4.0

Labyrinth Item Enchantments for Storm Call Duration have been weakened. In Merciless, the duration is 20% lower (rather than 30%). In the Endgame Labyrinth, the duration is 30% lower (rather than 45%).

2.3.2

Fixed an instance crash that occurs with Grandmasters when they have "... of War" enchantments.

2.3.0d

Fixed an issue where Enchantments for unreleased and experimental skills were spawning.

2.3.0

Added two new glove enchantments: Word of Ire and Word of the Grave.
There is a new Shield Charge helmet enchantment available.
The Merciless Labyrinth Helmet enchantment for Earthquake duration is now 20% reduced duration.
The Merciless Labyrinth Helmet enchantment for additional targets hit by Lightning Arrow is now +1 rather than +2.
Fixed a bug where a helmet Enchantment stat for Phase Run was increasing the base duration where it should have been increasing the duration by a percentage amount.

2.2.2c

Minions created by Glove Enchantments can no longer be chained from.
Damage caused by Glove Enchantments can no longer be reflected.

2.2.2

The "increased Shield Charge Damage per Enemy Hit" enchantment was not intended to go live (it was experimental and did not yet work), and has been removed.
Added an enchantment for Explosive Arrow that increases attack speed.
The Discipline Enchantment for reduced mana costs has been changed to 14% to be consistent with other aura mana reduction enchantments.
Fixed a bug where the increased duration of the Phase Run Enchantment did not work.
Fixed a bug with the "increased Critical Strike Chance if you haven't Crit Recently" Enchantment where it only counted critical strikes done by the main hand weapon.

2.2.1

Fixed a bug with the "... of Force" Enchantments which could disable audio.

2.2.0
References