Consider helping out in updating the wiki for 3.12.0 - see Path of Exile Wiki:To-do list/3.12.0.
Game data exports will becoming later as the technical changes in addition to regular changes take some more time.
As part of the Unified Community Platform project, your wiki will be migrated to the new platform in the next few weeks. Read more here.
King Kaom
King Kaom is a unique boss in Kaom's Stronghold. Defeating him is required for the quest The King of Fury.
Lore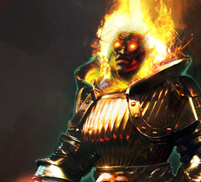 Kaom was the king of the Karui, often cited for his bravery and leadership. In the Karui's home, Ngamakanui, Kaom received a sign [1] (
Kaom's SignKaom's Sign
Coral Ring+(20-30) to maximum Life+(10-20) to Strength
+(2-4) Life gained for each Enemy hit by your Attacks
+1 to Maximum Endurance ChargesA token from the sea
A sign for Kaom
to lead his Karui to Wraeclast.
) saying the Purity Rebellion needed his support against Emperor Chitus. The Karui were called by High Templar Voll to overthrow General Marceus Lioneye in the outer empire. Kaom accepted and led his people to The Coast in Wraeclast using canoes. The battle against Lioneye and his army of Gemlings has been written in The Purity Chronicles Book 3: Fall of a Jade Axe: a batallion of female archers caught Lioneye by suprise. Among these archers was Hyrri, who has studied archery with Voll's finest military tutors. She was of great importance in this battle.[2] When Lioneye fell, Kaom infamously wore his head on his belt.
In-game
After he had conquered Lioneye's Watch the Karui passed through the land with their Canoes. Their stories have been preserved on weathered carvings throughout Act 1. These carvings tell of the nightmares they encounter, the undead. Kaom has tried to fight it, praying to his ancestors and eventually received a vision he thought divine, but it was actually from Nightmare.[3] He took a group of warriors and entered the Highgate mines to join the Beast [4].
After the The Awakening however, more carvings in Kaom's Stronghold reveal the black spirit may have not only lead him and his warriors farther into Wraeclast, he had been corrupted by Malachai to slaughter his own men as a 'sacrifice'.
After Kaom left, Hyrri led the Karui back to Ngamakanui.
Related items
Kaom's trademark was his two handed axe and his belt/body armour, which wore the head of his nemesis Lioneye.
Dialogue
King Kaom is voiced by New Zealand actor, Andre King.[5]
References