Consider helping out in updating the wiki for 3.12.0 - see Path of Exile Wiki:To-do list/3.12.0.
Game data exports will becoming later as the technical changes in addition to regular changes take some more time.
Heist league
Heist league
Challenge league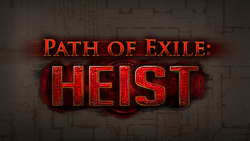 | | |
| --- | --- |
| Release version | 3.12.0 |
| Release date | 2020-09-18 20:00:00 UTC |
| End date | 2020-12-07 21:00:00 UTC |
| Links | Official page |
The Heist league is an upcoming challenge league. It will launch on September 18, 2020 (UTC), alongside the Version 3.12.0 patch.[1]
The Heist league has the player organizing Heists to infiltrate and steal from fortified caches of valuables. Using hired help from the Rogue Harbour, the player can take on Contracts found in zones to sneak into the vault and make their way out with the loot through the guards alive before the area is locked down. Smaller contracts can lead into Blueprints used to plan more elaborate Grand Heists for an even bigger payout. Players can equip Trinkets and train and gear up their Rogues to improve the heisting experience and rewards. Exclusive rewards in the Heist league include experimented base items with new implicit mods, skill gems with alternate quality modifiers, weapon and body armour enchantments, and replica unique items with similar but different properties to its original.
League mechanic
Enemies can randomly drop stacks Module Error: Item link: No results found for search parameter "Rogue's Marker". or Contracts, which are used for Heists. Occasionally, a zone contains a Smuggler's Cache containing some Rogue's Markers and a Quest Contract. Using a Rogue's Marker open a portal to the Rogue Harbour. Players can use contracts there to open a portal to perform a heist. Each heist requires a Rogue with the required Heist Job skill and level, as well as a fee.
During the heist, the player must retrieve the target item before lockdown. Opening chests raises the Alert gauge. Maxing out the gauge starts a Countdown phase before the item is locked out. Retrieving the item or running out the timer starts the Escape phase, where the player must reach the escape point without dying. All items taken during a heist are marked as Contraband, which cannot be used and drop on death until the heist is over. Selling the target item rewards you with additional Rogue's Markers.
Blueprints are used to perform Grand Heists. You can use Markers to pay to reveal additional wings and rooms in a blueprint. Grand Heists require multiple Rogues to perform and contain special items in the safe.
Items
These items are introduced to the Heist leagues:
New basetype
New Unique items
Version history
| Version | Changes |
| --- | --- |
| 3.12.0 | |
References