Consider helping out in updating the wiki for 3.12.0 - see Path of Exile Wiki:To-do list/3.12.0.
Game data exports will becoming later as the technical changes in addition to regular changes take some more time.
Harbinger Map (High Tier) (War for the Atlas)
Harbinger MapMap Level: 82
Map Tier: 15Travel to this Map by using it in the Templar Laboratory or a personal Map Device. Maps can only be used once.
Acquisition
Level: 82
DROP DISABLEDSell Price
1x Scroll FragmentMiscellaneous
Item class: Maps
Metadata ID: Metadata/Items/Maps/MapWorldsHarbingerHigh
The Beachhead
Map area, Unique Map area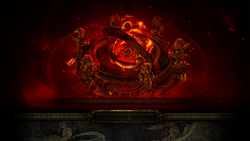 Harbinger Map (High Tier) (War for the Atlas) is a map area.
Layout
Encounters
Boss
Boss video
Items found in this area
Item
The Gambler

The Gambler

5

Divination Card

"I don't believe in karma. If it were real, I would never win."

1
The Encroaching Darkness

The Encroaching Darkness

8

Map


Corrupted

No matter where your dreams take you, Nightmare follows close behind.

1
First Piece of BrutalityFirst Piece of Brutality
Imperial Staff Piece

This item will transform when correctly arranged with other items.

1
The Endless Darkness

The Endless Darkness

9

Voidforge

Gaze towards the stars, but beware what gazes back.

1
Item acquisition
This item is drop disabled.
Unique versions
Item
The BeachheadThe Beachhead
Harbinger MapMap Level: 82
Map Tier: 15
Item Quantity: (+40%-+60%)
Item Rarity: (+40%-+60%)Area contains 6 extra Harbingers
Corrupted

Travel to this Map by using it in the Templar Laboratory or a personal Map Device. Maps can only be used once.

1
The BeachheadThe Beachhead
Harbinger MapMap Level: 82
Map Tier: 15
Item Quantity: (+40%-+60%)
Item Rarity: (+40%-+60%)Area contains 6 extra Harbingers
Corrupted


Travel to this Map by using it in the Templar Laboratory or a personal Map Device. Maps can only be used once.

1
Version history
Version
Changes
3.5.0

The Atlas of Worlds has been shuffled. Most maps have changed tier and location within the Atlas.
Many map bosses have also shifted around. Some have been retired and replaced!

3.1.0

Added 32 new maps including two new Unique maps.
The entire Atlas has been reworked. Many map names have changed, as have their balance, tier and position on the Atlas. Many maps have also had their boss fights swapped or completely reworked.
The rules used to generate monsters in endgame maps have been significantly reworked and rebalanced around the rate at which we expect players to reliably clear out the map. In general, narrow, linear maps will contain fewer total monsters than maps with complex layouts. We will be closely monitoring and adjusting the balance of this change and expect to make further changes and improvements over time.

3.0.0