Hall of Grandmasters (Atlas of Worlds)
Hall of Grandmasters
Promenade Map
Map Level: 76
Map Tier: 9
Guild Character: Ù
Contains the Immortalised Grandmasters
PvP damage scaling in effect
The grandest and greatest ever to fight,
Divine the champions stand tall.
But match their power, best their might,
And even the immortal may fall.
Travel to this Map by using it in the Templar Laboratory or a personal Map Device. Maps can only be used once.
Acquisition
DROP DISABLED
Purchase Costs
Sell Price
8x Alchemy Shard
Miscellaneous
Item class: Maps
The Hall of Grandmasters
Map area, Unique Map area
| | |
| --- | --- |
| Id | MapAtlasPromenadeUnique |
| Act | 11 |
| Area level | 76 |
| Tags | unique_map, map, limited_tempests, no_boss, no_monster_packs, hall_of_grandmasters, no_leaguestone |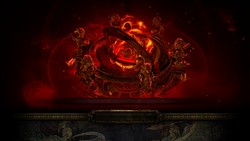 Area does not contain Rogue Exiles (Hidden)
Hall of Grandmasters (Atlas of Worlds) is a map.
Items found in this area
Item
The Gambler

The Gambler

5

Divination Card

"I don't believe in karma. If it were real, I would never win."

1
The Encroaching Darkness

The Encroaching Darkness

8

Map
Corrupted

No matter where your dreams take you, Nightmare follows close behind.

1
The Last One Standing

The Last One Standing

10

Atziri's Disfavour

The strongest emerge from suffering. The toughest bear the most scars. The sole survivor claims the greatest of rewards.

1
House of Mirrors

House of Mirrors

9

Mirror of Kalandra

What do you see in the mirror?

1
The Immortal

The Immortal

10

House of Mirrors"Greetings! Just because you think I'm greedy doesn't mean I'm not willing to share.
You'll just have to kill me first."
-Grandmaster Dy'Ness
1
Item acquisition
This item is drop disabled.
Other versions