Consider helping out in updating the wiki for 3.12.0 - see Path of Exile Wiki:To-do list/3.12.0.
Game data exports will becoming later as the technical changes in addition to regular changes take some more time.
As part of the Unified Community Platform project, your wiki will be migrated to the new platform in the next few weeks. Read more here.
Grandmaster's Corrupted Cache
Grandmaster's Corrupted Cache
Strongbox
(30 to 40)% increased Quantity of Contained Items
(800 to 1200)% increased Rarity of Contained Items
Contains 3 extra Vaal Gems
Contains 3 extra Vaal Fragments
The champions rest now, free from pain,
Their souls ascend to the sun.
Some parting gifts are all that remain,
Their eternal vigil is done.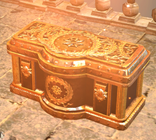 Grandmaster's Corrupted Cache is a unique Strongbox that can be found in the
Hall of GrandmastersHall of Grandmasters
Promenade MapMap Level: 73
Map Tier: 6
Guild Character: ÙContains the Immortalised Grandmasters
PvP damage scaling in effectThe grandest and greatest ever to fight,
Divine the champions stand tall.
But match their power, best their might,
And even the immortal may fall.Travel to this Map by using it in the Templar Laboratory or a personal Map Device. Maps can only be used once.
. Unlike a normal strongbox, it does not spawn monsters when opened.
Version history
| Version | Changes |
| --- | --- |
| 1.3.1 | |