Flooded Mine Map (Atlas of Worlds)
Flooded Mine Map
Map Level: 70
Map Tier: 3
Guild Character: 2
Travel to this Map by using it in the Templar Laboratory or a personal Map Device. Maps can only be used once.
Acquisition
Level: 70
DROP DISABLED
Purchase Costs
Sell Price
1x Scroll Fragment
Miscellaneous
Item class: Maps
Metadata ID: Metadata/Items/Maps/MapAtlasCavern
| | |
| --- | --- |
| Id | MapAtlasCavern |
| Act | 11 |
| Area level | 70 |
| Bosses | The Eroding One |
| Area type tags | cave |
| Tags | indoors_area, map, einharmaps, mine_area, cave_area, flooded_area |
| | The Shaper: In darkness, beast and man alike clamour to survive. |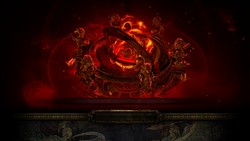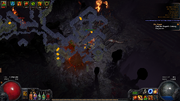 Cavern Map is a map based on the Cavern of Wrath and Cavern of Anger zones in Act 1. It's a loop of tight passages and many dead ends.
Map Type: Indoors
Boss Arena
Boss doesn't have an arena. His hiding spot is easy to recognize, it's a large open space with a wall that blocks half area.
Boss
The Eroding One is a unique golem. Uses earthquake, rolls over enemies, creates small physical degen fields.
Resists Elemental Damage
Resists Chaos
Boss video (Atlas of Worlds)
Items found in this area
Item
The Gambler

The Gambler

5

Divination Card

"I don't believe in karma. If it were real, I would never win."

1
The Trial

The Trial

7

Map


Map Tier:

15


Corrupted

You cannot journey to new lands until you have the courage to leave the safety of home.

1
Her Mask

Her Mask

4

Sacrifice FragmentTo her beauty you submit,
lest your neck the great Queen slit.
1
Treasure Hunter

Treasure Hunter

7

Vaults of Atziri
Corrupted"Don't worry, I know what I'm doing."
- Toggo's Last Words
1
The Wolf

The Wolf

5

Rigwald Item

The largest beasts cannot be overpowered. The Greatwolf teaches us to use guile, not strength, to probe for the soft flesh and strike deep.

1
Item acquisition
This item is drop disabled.
Usage in upgrade paths
This item is used by upgrade paths or vendor recipes to create the following items:

Outcome
Amount
Ingredient
Type
Waste Pool Map

Waste Pool Map

Map Level: 71
Map Tier: 4
Guild Character: 1

Travel to this Map by using it in the Templar Laboratory or a personal Map Device. Maps can only be used once.

3
Flooded Mine Map

Flooded Mine Map

Map Level: 70
Map Tier: 3
Guild Character: 2

Travel to this Map by using it in the Templar Laboratory or a personal Map Device. Maps can only be used once.

Manual
Unique versions
There are currently no unique items for this base item type.
Other versions
Version history
Version
Changes
3.5.0

The Atlas of Worlds has been shuffled. Most maps have changed tier and location within the Atlas.
Many map bosses have also shifted around. Some have been retired and replaced!

3.1.0

Added 32 new maps including two new Unique maps.
The entire Atlas has been reworked. Many map names have changed, as have their balance, tier and position on the Atlas. Many maps have also had their boss fights swapped or completely reworked.
The rules used to generate monsters in endgame maps have been significantly reworked and rebalanced around the rate at which we expect players to reliably clear out the map. In general, narrow, linear maps will contain fewer total monsters than maps with complex layouts. We will be closely monitoring and adjusting the balance of this change and expect to make further changes and improvements over time.

2.4.0

Name changed from Abandoned Cavern Map to Cavern Map.
Most existing maps have been revamped to have more balanced monster composition, layouts, boss fights and rewards.

2.2.0

The Mine Map has been renamed to the Abandoned Cave Map. It now has a new boss - The Eroding One.

2.1.0

The Terrace and Mine maps now generate with better pathing and more consistent layouts.