Consider helping out in updating the wiki for 3.12.0 - see Path of Exile Wiki:To-do list/3.12.0.
Game data exports will becoming later as the technical changes in addition to regular changes take some more time.
As part of the Unified Community Platform project, your wiki will be migrated to the new platform in the next few weeks. Read more here.
Farrul's Den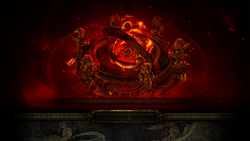 Farrul's Den is an end-game area where the battle with Farrul, First of the Plains takes place.
Accessibility
Capture Farric Tiger Alpha to unlock a beastcrafting recipe that open 6 portals to Farrul's Den. If you had unlocked the recipe in previous leagues, you can purchase the red beast Farric Tiger Alpha from other players directly. The recipe requires 3 others yellow beasts.
Boss
Items found in this area
There are currently no items that have a drop table specific to this area.
Item from boss
The boss will always drop one of these unique items:
Version history
| Version | Changes |
| --- | --- |
| 3.2.0 | |