Consider helping out in updating the wiki for 3.12.0 - see Path of Exile Wiki:To-do list/3.12.0.
Game data exports will becoming later as the technical changes in addition to regular changes take some more time.
Desecrated ground
You are taking Chaos Damage while standing on Desecrated Ground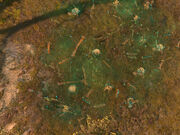 Desecrated Ground is a detrimental ground effect that deals chaos damage over time. The amount of damage per second inflicted by desecrated ground depends on its source. It is similar to caustic ground, which both deal Chaos DOT.
Sources
Desecrate

Desecrate

Spell, AoE, Duration, Chaos
Mana Cost: (11-26)
Cast Time: 0.60 secRequires Level 16

Desecrates the ground, summoning corpses and dealing chaos damage to all enemies in the area. The corpses will be chosen from the monsters in the current area and any Spectres that have existed in this instance.

Per 1% Quality:

1

2

3

4

1% increased Cast Speed

10% increased Chaos Damage

3% chance to spawn an additional Corpse

Each Corpse spawned has 0.1% chance to be a Forgotten Corpse

Base duration is 4 seconds
Deals (8.2-294) Base Chaos Damage per second
Spawns 5 corpses
Spawns corpses up to Level (20-100)
Maximum of 10 corpses allowed

Place into an item socket of the right colour to gain this skill. Right click to remove from a socket.

(also these bosses use it: Alpha Paradisae, The Brittle Emperor, Fleshrend, Grand Inquisitor and Maligaro, The Inquisitor, etc.)
The Cyclone

Cyclone

Attack, AoE, Movement, Channelling, Physical, Melee
Mana Cost: 2
Cast Time: 1.00 sec
Attack Speed: 300% of Base
Effectiveness of Added Damage: (44%-54%)Requires Level 28

Channel this skill to move towards a targeted location while spinning, building up stages while constantly attacking enemies in an area around you. While channelling this skill, you cannot be knocked back.

Per 1% Quality:

1

2

3

4

0.5% increased Area of Effect

1% chance to Knock Enemies Back on hit

0.25% more Movement Speed

1% Chance to Avoid Interruption from Stuns While Using this Skill

Deals (44-54)% of Base Attack Damage
30% less Movement Speed
First Hit deals 50% less Damage
Gains 1 Stage every (0.33-0.17) seconds while Channelling
+1 to radius per Stage
Lose 1 Stage every 0.33 seconds while not Channelling
(5-28) to (8-42) Added Attack Physical Damage
Maximum (3-6) Stages
8% increased Area of Effect per 1 additional Melee Strike Range

Place into an item socket of the right colour to gain this skill. Right click to remove from a socket.

skill used by Beheader Ataguchu and Q'ura
Unique items
Item
Stats
Lightbane RaimentLightbane Raiment
Ornate RingmailQuality: +20%
Armour: (621-673)
Energy Shield: (122-132)
Movement Speed: -5%Requires Level 47, 69 Str, 69 Int(120-140)% increased Armour and Energy Shield
30% of Physical Damage Converted to Chaos Damage
Reflects 30 Chaos Damage to Melee Attackers
25% reduced Light Radius
100% chance to create Desecrated Ground when you Block
Desecrated Ground deals 250 Chaos Damage per second (Hidden)
Desecrated Ground has a radius of 16 (Hidden). . . and the Light faded and hope waned
Zahndethus cast aside his faith
and embraced the darkness.
47
(120-140)% increased Armour and Energy Shield
30% of Physical Damage Converted to Chaos Damage
Reflects 30 Chaos Damage to Melee Attackers
25% reduced Light Radius
100% chance to create Desecrated Ground when you Block
Desecrated Ground deals 250 Chaos Damage per second (Hidden)
Desecrated Ground has a radius of 16 (Hidden)
Steppan EardSteppan Eard
Sorcerer BootsQuality: +20%
Energy Shield: (117-158)Requires Level 67, 123 Int+(20-30) to maximum Energy Shield
(50-80)% increased Energy Shield
30% increased Movement Speed
20% increased Movement Speed on Shocked Ground
50% increased Damage on Burning Ground
Regenerate 2% of Life per second on Chilled Ground
Unaffected by Desecrated GroundTo fight an enemy on their lands is a tactical mistake.
Make those lands your own, and the mistake becomes theirs.
67
+(20-30) to maximum Energy Shield
(50-80)% increased Energy Shield
30% increased Movement Speed
20% increased Movement Speed on Shocked Ground
50% increased Damage on Burning Ground
Regenerate 2% of Life per second on Chilled Ground
Unaffected by Desecrated Ground
Related modifiers
Item mods
Name
Stats
Spawn Weighting
Eldritch
68
Unaffected by Desecrated Ground
boots_elder 800
default 0
Hunter's
68
Unaffected by Desecrated Ground
boots_basilisk 500
default 0
Map and vaal side area mods
Desecrated ground is one of the map mods that can be rolled on maps and vaal side area (known as "secret_area" in spawn weight table):
Name
Stats
Spawn Weighting
of Desecration
1
10% increased Quantity of Items found in this Area
6% increased Rarity of Items found in this Area
+4% Monster pack size
Area has patches of desecrated ground
20 patches with Ground Effect per 100 tiles (Hidden)
Ground Effect has a radius of 14 (Hidden)
low_tier_map 250
default 0
of Desecration
1
10% increased Quantity of Items found in this Area
6% increased Rarity of Items found in this Area
+4% Monster pack size
Area has patches of desecrated ground
24 patches with Ground Effect per 100 tiles (Hidden)
Ground Effect has a radius of 16 (Hidden)
mid_tier_map 250
default 0
of Desecration
1
10% increased Quantity of Items found in this Area
6% increased Rarity of Items found in this Area
+4% Monster pack size
Area has patches of desecrated ground
28 patches with Ground Effect per 100 tiles (Hidden)
Ground Effect has a radius of 18 (Hidden)
top_tier_map 250
default 0
of Desecration
69
15% increased Quantity of Items found in this Area
Found Items have a (1-3)% chance to drop Corrupted in Area
Area contains 1 additional pack of Corrupted Vaal Monsters
Area has patches of desecrated ground
24 patches with Ground Effect per 100 tiles (Hidden)
Ground Effect has a radius of 16 (Hidden)
secret_area 500
default 0
The magnitude of the chaos damage varies depending on the map tier:
Legacy map mods
The following map mods can only be find in legacy map item in permanent leagues:
Name
Generation Type
Stats
Spawn Weighting
of Desecration
Suffix
1
11% increased Quantity of Items found in this Area
Area has patches of desecrated ground
20 patches with Ground Effect per 100 tiles (Hidden)
Ground Effect has a radius of 14 (Hidden)
secret_area 0
old_map 0
default 0
of Desecration
Suffix
1
12% increased Quantity of Items found in this Area
6% increased Rarity of Items found in this Area
Area has patches of desecrated ground
20 patches with Ground Effect per 100 tiles (Hidden)
Ground Effect has a radius of 14 (Hidden)
low_tier_map 0
default 0
of Desecration
Suffix
1
12% increased Quantity of Items found in this Area
6% increased Rarity of Items found in this Area
Area has patches of desecrated ground
24 patches with Ground Effect per 100 tiles (Hidden)
Ground Effect has a radius of 16 (Hidden)
mid_tier_map 0
default 0
of Desecration
Suffix
1
12% increased Quantity of Items found in this Area
6% increased Rarity of Items found in this Area
Area has patches of desecrated ground
28 patches with Ground Effect per 100 tiles (Hidden)
Ground Effect has a radius of 18 (Hidden)
top_tier_map 0
default 0
The magnitude of the chaos damage varies depending on the map tier and which legacy mods:
Delve area mods
Name
Stats
Spawn Weighting
MapDesecratedGroundDelve
1
(5-10)% increased Quantity of Items found in this Area
(3-6)% increased Rarity of Items found in this Area
+(3-6)% Monster pack size
Area has patches of desecrated ground
20 patches with Ground Effect per 100 tiles (Hidden)
Ground Effect has a radius of 14 (Hidden)
default 250
MapDesecratedGroundDelve2
52
(5-10)% increased Quantity of Items found in this Area
(3-6)% increased Rarity of Items found in this Area
+(3-6)% Monster pack size
Area has patches of desecrated ground
24 patches with Ground Effect per 100 tiles (Hidden)
Ground Effect has a radius of 16 (Hidden)
default 250
MapDesecratedGroundDelve3_
173
(5-10)% increased Quantity of Items found in this Area
(3-6)% increased Rarity of Items found in this Area
+(3-6)% Monster pack size
Area has patches of desecrated ground
28 patches with Ground Effect per 100 tiles (Hidden)
Ground Effect has a radius of 18 (Hidden)
default 250
The magnitude of the chaos damage varies depending on depth:
| required level | Damage per minute |
| --- | --- |
| 1 | 10,000 |
| 52 | 12,000 |
| 173 | 14,000 |
Synthesis area mods
Synthesis map mods can only appear in Synthesis-related areas
Name
Stats
Spawn Weighting
MapDesecratedGroundSynthesis
50
Area has patches of desecrated ground
20 patches with Ground Effect per 100 tiles (Hidden)
Ground Effect has a radius of 14 (Hidden)
default 250
MapDesecratedGroundSynthesis2
68
Area has patches of desecrated ground
24 patches with Ground Effect per 100 tiles (Hidden)
Ground Effect has a radius of 16 (Hidden)
default 250
MapDesecratedGroundSynthesis3_
79
Area has patches of desecrated ground
28 patches with Ground Effect per 100 tiles (Hidden)
Ground Effect has a radius of 18 (Hidden)
default 250
Version history
| Version | Changes |
| --- | --- |
| 2.1.0 | We've made performance improvements to ground effects. They now use considerably less bandwidth and server resources. Disconnections or lockstep stuttering near ground effects should occur far less often. |
| 1.0.6 | Desecrated Ground, created by the unique Lightbane Raiment and the new skill Desecrate, now deals flat chaos damage per minute rather than a percentage of life as chaos damage. |
| 0.10.8c | Added buff icons for Consecrated and Desecrated ground effects. |
| 0.10.8 | Added four new Unique items, three of which were designed by our Diamond supporters. There are new general mechanics that first appear on these items: Desecrated Ground is a ground effect that does chaos damage to enemies. |