Consider helping out in updating the wiki for 3.12.0 - see Path of Exile Wiki:To-do list/3.12.0.
Game data exports will becoming later as the technical changes in addition to regular changes take some more time.
Delve Stash Tab
Delve Stash Tab
Account Features

Add a Delve Stash Tab to your account. Delve tabs can hold 5000 of each Delve type.
Delve stash tabs can be listed as public, allowing them to integrate with community trade tools.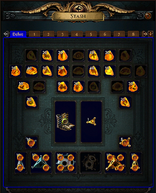 Delve Stash Tab[1] can be purchased in the shop for 40 points.
Version history
| Version | Changes |
| --- | --- |
| 3.8.0e | |
References