Consider helping out in updating the wiki for 3.12.0 - see Path of Exile Wiki:To-do list/3.12.0.
Game data exports will becoming later as the technical changes in addition to regular changes take some more time.
Daresso's Dream
No matter how far you climb, you never escape the Pits.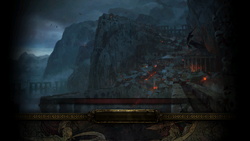 Daresso's Dream is an area in Act 4. It doesn't have a waypoint and is connected to The Crystal Veins and The Grand Arena. A special feature of this map is that there will be parts of the maps that will lock players inside an area until they have cleared the waves of monsters spawned.
Monsters
Items found in this area
Item
The Gladiator

The Gladiator

5

Nightmare BascinetThe thumb turns down
and the crowd roars,
they want death
and the blood is yours.
1
The King's Blade

The King's Blade

5

Bloodthirsty Eternal Sword




Item Level:

66

"To know for what you fight. To get up again when you've been struck down. To outmanoeuvre someone faster, trick someone smarter, crush someone stronger. That's what it takes to claim the crown."
- Daresso, the King of Swords
1
Version History
| Version | Changes |
| --- | --- |
| 2.0.0 | |