Consider helping out in updating the wiki for 3.12.0 - see Path of Exile Wiki:To-do list/3.12.0.
Game data exports will becoming later as the technical changes in addition to regular changes take some more time.
Core Map
Core Map
Map Level: 78
Map Tier: 11
Guild Character: û
Black monstrous bridges cross oily rivers, leading nowhere. Nothing as it should be.
Travel to this Map by using it in a personal Map Device. Maps can only be used once.
Additional Information
Region Upgrades Chart
Upgrade Level
0
1
2
3
4
Tier
✗
✗
11
13
15
Map Level
✗
✗
78
80
82
Connections
Alleyways Map (Heist)
✗
✗
✓
✓
✓
Arachnid Nest Map (Heist)
✗
✗
✗
✓
✓
Lava Lake Map (Heist)
✗
✗
✗
✗
✓
Malformation Map (Heist)
✗
✗
✓
✓
✗
Pen Map (Heist)
✗
✗
✓
✓
✓
Siege Map (Heist)
✗
✗
✓
✗
✓
Acquisition
Level: 77
Purchase Costs
Sell Price
1x Scroll Fragment
Miscellaneous
Item class: Maps
Id
MapWorldsCore
Act
11
Area level
80
Bosses
Eater of Souls
Eater of Souls
Area type tags
temple, cave
Tags
indoors_area, map, no_echo, area_with_water, einharmaps, belly_area, harvest_area, core_map_area, vile_areas
The Shaper: Black monstrous bridges cross oily rivers, leading nowhere. Nothing as it should be.
Black monstrous bridges cross oily rivers, leading nowhere. Nothing as it should be.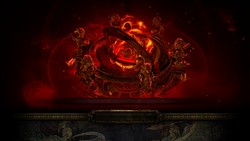 Layout
Core Map uses the Belly tileset. Based on the The Harvest in Act 4.
Encounters
Boss
The Depraved Trio of Maligaro, Shavronne and Doedre (the Prodigy trio of this map) all maintain serious damage but have little health and should make for short work. Phase 1 Malachai avoid the "Die and be reborn" one-shot slam. In phase 2 avoid the teleport slam. The main difficulty of this boss comes from the small arena and ease to make a fatal mistake in a long fight. Absolutely manic with some map mods such as extra projectiles or double boss.
Boss video
Items found in this area
Item
The Gambler

The Gambler

5

Divination Card

"I don't believe in karma. If it were real, I would never win."

1
The Encroaching Darkness

The Encroaching Darkness

8

Map
Corrupted

No matter where your dreams take you, Nightmare follows close behind.

1
The Aesthete

The Aesthete

8

Shavronne Item"Some see our mortal flesh as a limitation. I see it as an opportunity for vast, miraculous improvements."
- Shavronne of Umbra
1
The Surveyor

The Surveyor

4

Map


Map Tier:

14

Exploring lands made of flesh and sorrow, we'll reap and plunder like there's no tomorrow.

1
The Offering

The Offering

8

Shavronne's Wrappings

Eternal beauty has a cost, one which Shavronne was happy to pay with the lives of others.

1
The Oath

The Oath

6

Death's Oath

An oath once made is an oath never broken. Do not delay in keeping it, for I take no pleasure in fools.

1
Lingering Remnants

Lingering Remnants

16

Module Error: Item link: Too many results for search parameter "Vaal Temple Map". Consider using page parameter instead.




Item Level:

83


CorruptedNever dying, yet not living,
Endlessly they wander
beneath the harvest moon.
1
Vile Power

Vile Power

5

Ancient DoomDread and danger
makes the air feel thin.
Above, power slumbers, tempting fate.
Greed and ambition
draws countless in,
For those who seek power
can never wait.
1
Convoking Wand

Convoking Wand

Wand
Physical Damage: 30–56
Critical Strike Chance: 7.00%
Attacks per Second: 1.40
Weapon Range: 120Requires Level 72, 242 IntCan roll Minion Modifiers
72
Cerulean Ring

Cerulean Ring

Requires Level 80(8-10)% increased maximum Mana
80
Item acquisition
Upgrade paths
This item can be acquired through the following upgrade paths or vendor recipes:

Amount
Ingredient
General
Notes
Type
4
Boundless Realms

Boundless Realms

4

Map

Boundless is the distance between where we start and where we start again.

random Map
Automatic
6
The Explorer

The Explorer

6

Map
Corrupted

A map is only useful if you know where you stand.

random corrupted Map
Automatic
Unique versions
There are currently no unique items for this base item type.
Achievement
Version history
Version
Changes
3.9.0

The Atlas of Worlds has been reworked. You now start at the centre and will work your way outwards as you explore a new storyline.
Added a new mechanic - Watchstones: These can only be obtained by defeating one of the new Atlas bosses. They can be used to raise the tier of all maps in a particular region of the Atlas, causing all maps of those base types to drop at the new higher tier.

3.5.0

The Atlas of Worlds has been shuffled. Most maps have changed tier and location within the Atlas.
(Not in patch notes) The Atlas will now be shuffled every league.

3.1.1d

Fixed a bug that could cause the boss fight of a Twinned Core Map to not work.

3.1.0

The entire Atlas has been reworked. Many map names have changed, as have their balance, tier and position on the Atlas. Many maps have also had their boss fights swapped or completely reworked.
The rules used to generate monsters in endgame maps have been significantly reworked and rebalanced around the rate at which we expect players to reliably clear out the map. In general, narrow, linear maps will contain fewer total monsters than maps with complex layouts. We will be closely monitoring and adjusting the balance of this change and expect to make further changes and improvements over time.

2.4.0

The Atlas of Worlds lets you track your progression through Path of Exile's map endgame. You can also use it to upgrade maps and add mods to the Atlas. It indicates which maps are connected to each other.
The map drop rules have been changed so that connected maps and maps you've previously completed can drop from the area you're playing. As you progress towards the center of the Atlas from the four corners, the tier of maps increases.
Most existing maps have been revamped to have more balanced monster composition, layouts, boss fights and rewards.

2.2.0

Tier 15 Core maps can now get the "Twinned" map mod.

2.0.1