Consider helping out in updating the wiki for 3.12.0 - see Path of Exile Wiki:To-do list/3.12.0.
Game data exports will becoming later as the technical changes in addition to regular changes take some more time.
Chris Wilson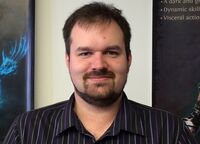 Chris Wilson is producer and developer at Grinding Gear Games.
Wilson graduated from the University of Auckland in 2004, gaining Bachelor of Science (Computer Science, with First Class Honours) and Bachelor of Commerce (Finance) degrees. His work in the field of software security provided the financial liquidity required to cofound and invest in Grinding Gear Games and to develop Path of Exile.