Consider helping out in updating the wiki for 3.12.0 - see Path of Exile Wiki:To-do list/3.12.0.
Game data exports will becoming later as the technical changes in addition to regular changes take some more time.
As part of the Unified Community Platform project, your wiki will be migrated to the new platform in the next few weeks. Read more here.
Brinerot Cache
Brinerot Cache
Strongbox
Guarded by 3 packs of Monsters
(80 to 100)% increased Quantity of Contained Items
+(3 to 5) Chest level
Guarded by a Brinerot Warband
Contains an additional Brinerot Unique Item
For Generations, the gentle pondium tides sheltered the smugglers, murderers and thieves, and let their resentments and population flourish.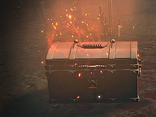 Brinerot Cache is a unique Strongbox. It is guarded by a Brinerot Warband.
List of Brinerot unique items
Brinerot FlagBrinerot Flag
Tarnished Spirit ShieldQuality: +20%
Chance to Block: 24%
Energy Shield: (108-132)
Movement Speed: -3%Requires Level 23, 60 Int(5-10)% increased Spell Damage+3 to Level of Socketed Warcry Gems
(8-12)% increased Cast Speed
+(70-90) to maximum Energy Shield
(20-40)% increased Mana Regeneration Rate
Warcries grant Arcane Surge to you and Allies, with 10% increased effect per 5 power, up to 50%

The lords of the sea bow to no one.

Brinerot WhalersBrinerot Whalers
Trapper BootsQuality: +20%
Evasion: 88
Energy Shield: (114-138)Requires Level 41, 40 Dex, 40 Int20% increased Global Physical Damage
+(80-100) to maximum Energy Shield
+(20-30)% to Lightning Resistance
25% increased Movement Speed
(20-40)% increased Projectile Damage
Unaffected by Shocked GroundThose Theopolis fatcats put a price on our heads.
Let's see what they'll pay for their own.
Brinerot MarkBrinerot Mark
Unset RingRequires Level 44Has 1 Socket25% increased Effect of Buffs granted by Socketed Golem Skills
Socketed Golem Skills gain 20% of Maximum Life as Extra Maximum Energy Shield
+3 to Level of Socketed Golem Gems
(20-25)% increased Spell Damage
+(15-25) to maximum Energy Shield
+(20-40)% to Lightning ResistanceEach time, it is granted to the most senior captain of the fleet,
and each time, the ring soon washes ashore once more,
still wrapped around a severed finger.
Version history
| Version | Changes |
| --- | --- |
| 2.3.0 | |