Consider helping out in updating the wiki for 3.12.0 - see Path of Exile Wiki:To-do list/3.12.0.
Game data exports will becoming later as the technical changes in addition to regular changes take some more time.
Blueprint
Blueprints are used to perform Grand Heists. They work like Contracts, but additional details can be revealed to open up new wings and reward rooms. They contain rewards pertaining to experimented items.
Mechanics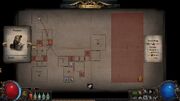 Blueprints can be taken to Whakano, the Barber, Niles, the Interrogator, or Gianna, Master of Disguise to inspect its layout. Initially, only one wing is revealed and some of the reward rooms and escape points will be locked. You can use one Blueprint Reveal and a payment of
Rogue's MarkersRogue's MarkerStack Size: 50000Creates a portal to the Rogue Harbour from a Town or Hideout
Used as Currency for services in the Rogue HarbourRight click on this item while in a Town or Hideout to use it.
Shift click to unstack.
to reveal details of it. Any unrevealed wings or rooms will not spawn when performing the Grand Heist.
Upon completing a Contract, you will gain one Blueprint Reveal. If you completed the Contract with Niles or Gianna, they will receive the Blueprint Reveal. For everyone else, the Blueprint Reveal will go to Whakano. Niles will provide a 10% discount on Blueprint Reveals, and Gianna will provide a 20% to 40% discount. If the Contract level is too low compared to yours (>10 levels below, your level counts as 68 if it's higher), you will not receive a Blueprint Reveal.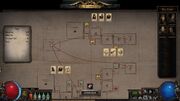 The Blueprint can then be taken to the Planning Table to assign your Rogues to it. Each wing requires three Rogues with the qualifying skills to be assigned to it. You may use the same Rogue to cover multiple jobs in the same wing. You can then confirm the plans to lock in your plans. Once you confirm the Blueprint, you cannot reveal additional details or change your Rogue assignments. You can still modify the Blueprint's affixes after you've confirmed the plans, however.
List of blueprints
Item
Drop
Level
Blueprint: Bunker

Blueprint: Bunker

Use Intelligence to Reveal additional Wings and Rooms by talking to certain NPCs in the Rogue Harbour. Give this Blueprint to Adiyah to embark on the Grand Heist.

24
Blueprint: Mansion

Blueprint: Mansion

Use Intelligence to Reveal additional Wings and Rooms by talking to certain NPCs in the Rogue Harbour. Give this Blueprint to Adiyah to embark on the Grand Heist.

24
Blueprint: Records Office

Blueprint: Records Office

Use Intelligence to Reveal additional Wings and Rooms by talking to certain NPCs in the Rogue Harbour. Give this Blueprint to Adiyah to embark on the Grand Heist.

24
Blueprint: Repository

Blueprint: Repository

Use Intelligence to Reveal additional Wings and Rooms by talking to certain NPCs in the Rogue Harbour. Give this Blueprint to Adiyah to embark on the Grand Heist.

24
Blueprint: Smuggler's Den

Blueprint: Smuggler's Den

Use Intelligence to Reveal additional Wings and Rooms by talking to certain NPCs in the Rogue Harbour. Give this Blueprint to Adiyah to embark on the Grand Heist.

24
Blueprint: Tunnels

Blueprint: Tunnels

Use Intelligence to Reveal additional Wings and Rooms by talking to certain NPCs in the Rogue Harbour. Give this Blueprint to Adiyah to embark on the Grand Heist.

24
Blueprint: Underbelly

Blueprint: Underbelly

Use Intelligence to Reveal additional Wings and Rooms by talking to certain NPCs in the Rogue Harbour. Give this Blueprint to Adiyah to embark on the Grand Heist.

24
Blueprint: Laboratory

Blueprint: Laboratory

Use Intelligence to Reveal additional Wings and Rooms by talking to certain NPCs in the Rogue Harbour. Give this Blueprint to Adiyah to embark on the Grand Heist.

34
Blueprint: Prohibited Library

Blueprint: Prohibited Library

Use Intelligence to Reveal additional Wings and Rooms by talking to certain NPCs in the Rogue Harbour. Give this Blueprint to Adiyah to embark on the Grand Heist.

34
Version history
| Version | Changes |
| --- | --- |
| 3.12.0 | |