Consider helping out in updating the wiki for 3.12.0 - see Path of Exile Wiki:To-do list/3.12.0.
Game data exports will becoming later as the technical changes in addition to regular changes take some more time.
As part of the Unified Community Platform project, your wiki will be migrated to the new platform in the next few weeks. Read more here.
Aspirants' Plaza
Aspirants' Plaza
Labyrinth airlock area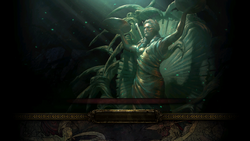 Area does not contain Rogue Exiles (Hidden)
Aspirants' Plaza is an area in Act 3 and Act 8. This area has a waypoint and is connected to the Sarn Encampment and the Lord's Labyrinth.
Items found in this area
There are currently no items that have a drop table specific to this area.
Lore
Version history
| Version | Changes |
| --- | --- |
| 3.0.0 | Added a waypoint to the Aspirants' Plaza which can be used to access the Plaza from any other waypoint. |
| 2.2.0 | |