Consider helping out in updating the wiki for 3.12.0 - see Path of Exile Wiki:To-do list/3.12.0.
Game data exports will becoming later as the technical changes in addition to regular changes take some more time.
Arena Map
Arena Map
Map Level: 71
Map Tier: 4
Guild Character: t
The sound of a thousand calls for blood echo for eternity.
Travel to this Map by using it in a personal Map Device. Maps can only be used once.
Additional Information
Region Upgrades Chart
Upgrade Level
0
1
2
3
4
Tier
4
8
11
13
16
Map Level
71
75
78
80
83
Connections
Chateau Map (Harvest)
✓
✓
✓
✓
✓
Dark Forest Map (Harvest)
✓
✓
✓
✓
✓
Lava Chamber Map (Harvest)
✓
✓
✓
✓
✓
Toxic Sewer Map (Harvest)
✓
✓
✓
✓
✓
Acquisition
Level: 70
Purchase Costs
Sell Price
1x Scroll Fragment
Miscellaneous
Item class: Maps
The sound of a thousand calls for blood echo for eternity.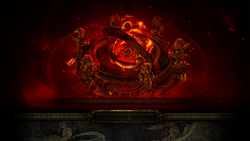 Layout
Encounters
Boss
Boss video
Items found in this area
Item
The Gladiator

The Gladiator

5

Nightmare BascinetThe thumb turns down
and the crowd roars,
they want death
and the blood is yours.
1
The Gambler

The Gambler

5

Divination Card

"I don't believe in karma. If it were real, I would never win."

1
The Encroaching Darkness

The Encroaching Darkness

8

Map


Corrupted

No matter where your dreams take you, Nightmare follows close behind.

1
The Trial

The Trial

7

Map




Map Tier:

15


Corrupted

You cannot journey to new lands until you have the courage to leave the safety of home.

1
The Visionary

The Visionary

6

Lioneye's Vision

Lioneye looked to the heights of glorious victory. And thus he missed the defeat right under his nose.

1
The Deceiver

The Deceiver

4

Belt of the Deceiver
Corrupted

Beware the combatant who shows no confidence, yet still enters the ring, for they are surely hiding something.

1
Three Voices

Three Voices

3

3x Essence

The village elders had a curious rule: If you hear three voices scream for aid, flee as fast as you can.

1
Convoking Wand

Convoking Wand

Wand
Physical Damage: 30–56
Critical Strike Chance: 7.00%
Attacks per Second: 1.40
Weapon Range: 120Requires Level 72, 242 IntCan roll Minion Modifiers
72
Cerulean Ring

Cerulean Ring

Requires Level 80(8-10)% increased maximum Mana
80
Item acquisition
Upgrade paths
This item can be acquired through the following upgrade paths or vendor recipes:

Amount
Ingredient
General
Notes
Type
4
Boundless Realms

Boundless Realms

4

Map

Boundless is the distance between where we start and where we start again.

random Map
Automatic
6
The Explorer

The Explorer

6

Map


Corrupted

A map is only useful if you know where you stand.

random corrupted Map
Automatic
Unique versions
There are currently no unique items for this base item type.
Version history
Version
Changes
3.5.0

The Atlas of Worlds has been shuffled. Most maps have changed tier and location within the Atlas.
Many map bosses have also shifted around. Some have been retired and replaced!

3.1.0

Added 32 new maps including two new Unique maps.
The entire Atlas has been reworked. Many map names have changed, as have their balance, tier and position on the Atlas. Many maps have also had their boss fights swapped or completely reworked.
The rules used to generate monsters in endgame maps have been significantly reworked and rebalanced around the rate at which we expect players to reliably clear out the map. In general, narrow, linear maps will contain fewer total monsters than maps with complex layouts. We will be closely monitoring and adjusting the balance of this change and expect to make further changes and improvements over time.

2.0.0