Consider helping out in updating the wiki for 3.12.0 - see Path of Exile Wiki:To-do list/3.12.0.
Game data exports will becoming later as the technical changes in addition to regular changes take some more time.
Area:MapWorldsCursedCryptUnique
The Coward's Trial
Map area, Unique Map area
| | |
| --- | --- |
| Id | MapWorldsCursedCryptUnique |
| Act | 11 |
| Area level | 77 |
| Bosses | Infector of Dreams |
| Area type tags | dungeon |
| Tags | indoors_area, unique_map, map, limited_tempests, no_monster_packs, no_strongboxes, cowards_trial, anarchy_leaguestone, torment_leaguestone, warbands_leaguestone, ambush_leaguestone, domination_leaguestone, talisman_leaguestone, perandus_leaguestone, prophecy_leaguestone, essence_leaguestone, breach_leaguestone, crypt_area |
For his sins

he was hunted in his sleep, judgement wrought of twisted nightmare. The Coward bound his dreams to stone, awaiting another to walk

the path of true atonement.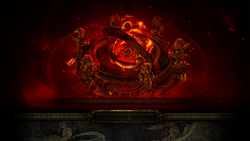 Area does not contain Rogue Exiles (Hidden)
Spawn Weights
#
Tag
Has spawn weight
MapWorldsCursedCryptUnique is the internal id for the The Coward's Trial area.