Arcade Map (Synthesis)
Arcade Map
Map Level: 71
Map Tier: 4
Guild Character: +
We create so that some part of us may remain after death.
Travel to this Map by using it in the Templar Laboratory or a personal Map Device. Maps can only be used once.
Acquisition
Level: 70
DROP DISABLED
Purchase Costs
Sell Price
1x Scroll Fragment
Miscellaneous
Item class: Maps
We create so that some part of us may remain after death.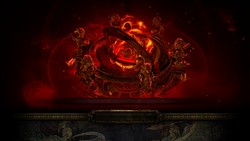 Arcade Map (Synthesis) is a map area based on the tileset of The Marketplace.
Layout
Like the act zone it is based upon, this map is a large area of ruined market stalls, creating a web of narrow passageways and many obstacles. Dead ends occur very infrequently only. There is no separate boss arena, instead, they are waiting in a medium sized room branching off from the map edge. The floor around the bosses is marked with sand spirals.
Encounters
Boss
Two unique ribbon sentinels, based on the fire and lightning unique ribbons in the Solaris Temple. Killing one causes the other to enrage and gain a new skill.
Herald of Ashes, based on Flame Sentinel
(Enrage) Summons Fire Bombs that explode after a delay (similar to Flame Bearers Bloodline)
Herald of Thunder, based on Galvanic Ribbon
(Enrage) Summons Lightning Bombs that explode after a delay (similar to Storm Bearers Bloodline)
Boss video
Items found in this area
Item
The Poet

The Poet

9

Blood of Corruption
CorruptedGod had forsaken the land
And Victario wept.
Corruption consumed the land
And Victario's tears turned to blood.
1
The Gambler

The Gambler

5

Divination Card

"I don't believe in karma. If it were real, I would never win."

1
Assassin's Favour

Assassin's Favour

9

DaggerBy the time their eyes meet,
the dark deal has long since been made,
and his fate long since sealed.
1
Her Mask

Her Mask

4

Sacrifice FragmentTo her beauty you submit,
lest your neck the great Queen slit.
1
Gripped Gloves

Gripped Gloves

Evasion: 220Requires Level 70, 95 Dex(14-18)% increased Projectile Attack Damage
70
Spiked Gloves

Spiked Gloves

Armour: 220Requires Level 70, 95 Str

(16-20)% increased Melee Damage

70
The Saint's Treasure

The Saint's Treasure

10

2x Exalted Orb

Publicly, he lived a pious and chaste life of poverty. Privately, tithes and tributes made him and his lascivious company very comfortable indeed.

1
Cerulean Ring

Cerulean Ring

Requires Level 80(8-10)% increased maximum Mana
80
Item acquisition
This item is drop disabled.
Unique versions
There are currently no unique items for this base item type.
Other versions
Version history
Version
Changes
3.5.0

The Atlas of Worlds has been shuffled. Most maps have changed tier and location within the Atlas.
Many map bosses have also shifted around. Some have been retired and replaced!

3.1.0

The entire Atlas has been reworked. Many map names have changed, as have their balance, tier and position on the Atlas. Many maps have also had their boss fights swapped or completely reworked.
The rules used to generate monsters in endgame maps have been significantly reworked and rebalanced around the rate at which we expect players to reliably clear out the map. In general, narrow, linear maps will contain fewer total monsters than maps with complex layouts. We will be closely monitoring and adjusting the balance of this change and expect to make further changes and improvements over time.

2.4.0

Most existing maps have been revamped to have more balanced monster composition, layouts, boss fights and rewards.

0.10.1