Arachnid Tomb Map (Atlas of Worlds)
Arachnid Tomb Map
Map Level: 74
Map Tier: 7
Guild Character: n
Travel to this Map by using it in the Templar Laboratory or a personal Map Device. Maps can only be used once.
Acquisition
Level: 74
DROP DISABLED
Purchase Costs
Sell Price
1x Scroll Fragment
Miscellaneous
Item class: Maps
Metadata ID: Metadata/Items/Maps/MapAtlasArachnidTomb
| | |
| --- | --- |
| Id | MapAtlasArachnidTomb |
| Act | 11 |
| Area level | 74 |
| Bosses | Hybrid Widow |
| Area type tags | dungeon, temple |
| Tags | indoors_area, map, area_with_water, einharmaps, arachnid_tomb_map_area |
| | The Shaper: They feel your every move, your every breath, with a million little wires. |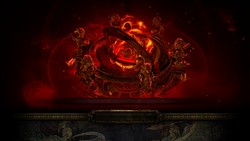 Arachnid Tomb Map is similar to The Vaal Ruins, except it's covered in spider webs. It has two levels.
Map Type: Indoors. Multilevel.
Boss Arena
Located at the end of the second level, the arena is a large room. It contains two fireplaces that deal actual fire damage over time. While the boss is alive, players in the arena will periodically become "Covered With Spiders". This debuff lasts 10 seconds or until the player walks through one of the fireplaces. Debuff effects are: more movement speed, less attack speed, less cast speed, less damage, Widow's Skitterers spawn around the player (relatively harmless). Entrance seals when the boss is engaged.
Boss
Hybrid Widow, a unique spider based on Black Death. Summons Widow's Hatchlings that use
Viper StrikeViper StrikeAttack, Duration, Melee, Strike, Chaos
Mana Cost: 5
Cast Time: 1.00 sec
Effectiveness of Added Damage: (90%-135%)Hits enemies, adding some of your physical damage as chaos damage and inflicting poison which will be affected by modifiers to skill duration. If dual wielding, will strike with both weapons. Requires a claw, dagger or sword.Per 1% Quality:12340.5% increased Attack Speed
0.5% increased Poison Duration1% of Physical Damage Converted to Chaos Damage1% increased Chaos Damage0.5% chance to also Poison a nearby Enemy when you inflict PoisonDeals (90-135)% of Base Attack Damage
50% of Physical Damage Converted to Chaos Damage
60% chance to Poison on Hit
Base duration is 4 seconds
(5-169) to (7-254) Added Chaos Damage
Each Weapon Hits separately if Dual Wielding, dealing 20% less Damage
30% Less Attack Speed if Dual Wielding
+(0-2) to Melee Strike RangePlace into an item socket of the right colour to gain this skill. Right click to remove from a socket.
.
Items found in this area
Item acquisition
This item is drop disabled.
Upgrade paths
This item can be acquired through the following upgrade paths or vendor recipes:

Amount
Ingredient
Type
3
Shaped Jungle Valley Map

Shaped Jungle Valley Map

Map Level: 73
Map Tier: 6
Guild Character: 3

Travel to this Map by using it in the Templar Laboratory or a personal Map Device. Maps can only be used once.

Manual
Unique versions
There are currently no unique items for this base item type.
Other versions
Version history
Version
Changes
3.5.0

The Atlas of Worlds has been shuffled. Most maps have changed tier and location within the Atlas.
Many map bosses have also shifted around. Some have been retired and replaced!

3.1.0

Added 32 new maps including two new Unique maps.
The entire Atlas has been reworked. Many map names have changed, as have their balance, tier and position on the Atlas. Many maps have also had their boss fights swapped or completely reworked.
The rules used to generate monsters in endgame maps have been significantly reworked and rebalanced around the rate at which we expect players to reliably clear out the map. In general, narrow, linear maps will contain fewer total monsters than maps with complex layouts. We will be closely monitoring and adjusting the balance of this change and expect to make further changes and improvements over time.

2.4.0

We've added thirty new maps and dozens of new map bosses.