Consider helping out in updating the wiki for 3.12.0 - see Path of Exile Wiki:To-do list/3.12.0.
Game data exports will becoming later as the technical changes in addition to regular changes take some more time.
Alpine Hideout
Alpine Hideout
Hideout area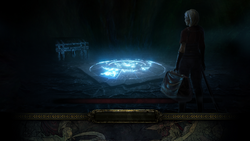 Alpine Hideout is a hideout area.[1]
Unlocking
Alpine Hideout can be found in
Summit MapSummit MapMap Level: 83
Map Tier: 16
Guild Character: ùWe are swept ever upwards by our ambition, with no thought of what awaits us at the peak.Travel to this Map by using it in a personal Map Device. Maps can only be used once.
.
Version history
| Version | Changes |
| --- | --- |
| 3.6.0 | |
References