Consider helping out in updating the wiki for 3.12.0 - see Path of Exile Wiki:To-do list/3.12.0.
Game data exports will becoming later as the technical changes in addition to regular changes take some more time.
Alleyways Map
Alleyways Map
Map Level: 81
Map Tier: 14
Guild Character: a
An unwashed gutter, where wretches cut purses and throats alike.
Travel to this Map by using it in a personal Map Device. Maps can only be used once.
Additional Information
Region Upgrades Chart
Upgrade Level
0
1
2
3
4
Tier
✗
✗
✗
14
16
Map Level
✗
✗
✗
81
83
Connections
Acid Caverns Map (Harvest)
✗
✗
✗
✗
✓
Cage Map (Harvest)
✗
✗
✗
✗
✓
Desert Spring Map (Harvest)
✗
✗
✗
✓
✗
Dungeon Map (Harvest)
✗
✗
✗
✓
✗
Acquisition
Level: 80
Purchase Costs
Sell Price
1x Scroll Fragment
Miscellaneous
Item class: Maps
| | |
| --- | --- |
| Id | MapWorldsAlleyways |
| Act | 11 |
| Area level | 69 |
| Bosses | Calderus |
| Area type tags | urban |
| Tags | map, area_with_water, einharmaps, marketplace_area |
| | The Shaper: An unwashed gutter, where wretches cut purses and throats alike. |
| Vaal Areas | Secluded Canal (MapSideArea5_3_2) |
An unwashed gutter, where wretches cut purses and throats alike.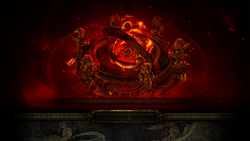 Layout
Encounters
Boss
Boss video
Items found in this area
Item
The Poet

The Poet

9

Blood of Corruption
CorruptedGod had forsaken the land
And Victario wept.
Corruption consumed the land
And Victario's tears turned to blood.
1
The Gambler

The Gambler

5

Divination Card

"I don't believe in karma. If it were real, I would never win."

1
Assassin's Favour

Assassin's Favour

9

Dagger

By the time their eyes meet,
the dark deal has long since been made,
and his fate long since sealed.
1
Her Mask

Her Mask

4

Sacrifice Fragment

To her beauty you submit,
lest your neck the great Queen slit.
1
Crystal Belt

Crystal Belt

Requires Level 79+(60-80) to maximum Energy Shield
79
Two-Toned Boots

Two-Toned Boots

Evasion: 126
Energy Shield: 24Requires Level 70, 62 Dex, 62 Int+(8-12)% to Cold and Lightning Resistances
70
Steel Ring

Steel Ring

Requires Level 80Adds (3-4) to (10-14) Physical Damage to Attacks
80
The Saint's Treasure

The Saint's Treasure

10

2x Exalted Orb

Publicly, he lived a pious and chaste life of poverty. Privately, tithes and tributes made him and his lascivious company very comfortable indeed.

1
The Blazing Fire

The Blazing Fire

6

Chin Sol

Lethal, untouchable, keen, aflame. Just what I was looking for.

1
Item acquisition
Upgrade paths
This item can be acquired through the following upgrade paths or vendor recipes:

Amount
Ingredient
General
Notes
Type
4
The Surveyor

The Surveyor

4

Map




Map Tier:

14

Exploring lands made of flesh and sorrow, we'll reap and plunder like there's no tomorrow.

random tier 14 map
Automatic
4
Boundless Realms

Boundless Realms

4

Map

Boundless is the distance between where we start and where we start again.

random Map
Automatic
6
The Explorer

The Explorer

6

Map


Corrupted

A map is only useful if you know where you stand.

random corrupted Map
Automatic
Unique versions
There are currently no unique items for this base item type.
Version history
Version
Changes
3.5.0

The Atlas of Worlds has been shuffled. Most maps have changed tier and location within the Atlas.
Many map bosses have also shifted around. Some have been retired and replaced!

3.1.0

Added 32 new maps including two new Unique maps.
The entire Atlas has been reworked. Many map names have changed, as have their balance, tier and position on the Atlas. Many maps have also had their boss fights swapped or completely reworked.
The rules used to generate monsters in endgame maps have been significantly reworked and rebalanced around the rate at which we expect players to reliably clear out the map. In general, narrow, linear maps will contain fewer total monsters than maps with complex layouts. We will be closely monitoring and adjusting the balance of this change and expect to make further changes and improvements over time.