Consider helping out in updating the wiki for 3.12.0 - see Path of Exile Wiki:To-do list/3.12.0.
Game data exports will becoming later as the technical changes in addition to regular changes take some more time.
Acid Caverns Map
Acid Caverns Map
Map Level: 82
Map Tier: 15
Guild Character: ÿ
Clear water springs forth.
A moment of purity before it too gathers filth.
Travel to this Map by using it in a personal Map Device. Maps can only be used once.
Additional Information
Region Upgrades Chart
Upgrade Level
0
1
2
3
4
Tier
✗
✗
✗
✗
15
Map Level
✗
✗
✗
✗
82
Connections
Alleyways Map (Harvest)
✗
✗
✗
✗
✓
Caldera Map (Harvest)
✗
✗
✗
✗
✓
Desert Spring Map (Harvest)
✗
✗
✗
✗
✓
Shrine Map (Harvest)
✗
✗
✗
✗
✓
Acquisition
Level: 81
Purchase Costs
Sell Price
1x Scroll Fragment
Miscellaneous
Item class: Maps
Id
MapWorldsAcidLakes
Act
11
Area level
81
Bosses
Rama, The Kinslayer
Kalria, The Fallen
Invari, The Bloodshaper
Lokan, The Deceiver
Marchak, The Betrayer
Berrots, The Breaker
Vessider, The Unrivaled
Morgrants, The Deafening
Lokan, The Deceiver
Area type tags
sewers, swamp, mountain, cave
Tags
map, indoors_area, einharmaps, vile_areas
The Shaper: Clear water springs forth. A moment of purity before it too gathers filth.
Clear water springs forth. A moment of purity before it too gathers filth.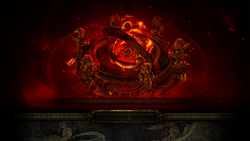 Acid Caverns Map is a map area.
Layout
Encounters
Boss
Boss video
Atlas completetion:
Found in: New Vastir
Atlas bonus objectives: Kill boss of CORRUPTED RARE version of this map.
Awakening bonus: Complete this map with at least TIER 15 and Awakening level 8
Items found in this area
Item
The Gambler

The Gambler

5

Divination Card

"I don't believe in karma. If it were real, I would never win."

1
The Encroaching Darkness

The Encroaching Darkness

8

Map


Corrupted

No matter where your dreams take you, Nightmare follows close behind.

1
The Inoculated

The Inoculated

4

Seraphim's Armour

Chaos spread, wreaking havoc and death. They said none would be spared, and yet here I stand.

1
Blue Pearl Amulet

Blue Pearl Amulet

Requires Level 77(48-56)% increased Mana Regeneration Rate
77
Lingering Remnants

Lingering Remnants

16

Vaal Temple Map


Item Level:

83


CorruptedNever dying, yet not living,
Endlessly they wander
beneath the harvest moon.
1
Vermillion Ring

Vermillion Ring

Requires Level 80(5-7)% increased maximum Life
80
Item acquisition
Upgrade paths
This item can be acquired through the following upgrade paths or vendor recipes:

Amount
Ingredient
General
Notes
Type
8
Lost Worlds

Lost Worlds

8

Map




Map Tier:

15

"There are worlds that lie beyond the edge of my page, the edge of my understanding. Worlds of wonder. Worlds of terror."
Aramil - Cartographer to Emperor Chitus
random tier 15 map
Automatic
7
The Trial

The Trial

7

Map




Map Tier:

15


Corrupted

You cannot journey to new lands until you have the courage to leave the safety of home.

random corrupted tier 15 map
Automatic
4
Boundless Realms

Boundless Realms

4

Map

Boundless is the distance between where we start and where we start again.

random Map
Automatic
6
The Explorer

The Explorer

6

Map


Corrupted

A map is only useful if you know where you stand.

random corrupted Map
Automatic
Unique versions
There are currently no unique items for this base item type.
Version history
Version
Changes
3.5.0

The Acid Lakes map has been replaced by the Acid Caverns map. Existing Acid Lakes maps will now open portals to Acid Caverns.
The Atlas of Worlds has been shuffled. Most maps have changed tier and location within the Atlas.
Many map bosses have also shifted around. Some have been retired and replaced!

3.1.0

Added 32 new maps including two new Unique maps.
The entire Atlas has been reworked. Many map names have changed, as have their balance, tier and position on the Atlas. Many maps have also had their boss fights swapped or completely reworked.
The rules used to generate monsters in endgame maps have been significantly reworked and rebalanced around the rate at which we expect players to reliably clear out the map. In general, narrow, linear maps will contain fewer total monsters than maps with complex layouts. We will be closely monitoring and adjusting the balance of this change and expect to make further changes and improvements over time.

2.4.1

Acid Lakes can no longer spawn rats from the Plague of Rats

Plague of Rats

They run, they bite, they flee, they die. Swarms of fur and teeth and tail drown each and every room.

You will discover a series of indoor chambers flooded with rats.

Right-click to add this prophecy to your character.

Seal Cost:
2x Silver Coin prophecy, but can now spawn frogs from Plague of Frogs

Plague of Frogs

Wet and slippery flesh, clinging feet and tongue. No matter the colour before, now the earth is green.

You will discover an outdoor location flooded with frogs.

Right-click to add this prophecy to your character.

Seal Cost:
2x Silver Coin.

2.4.0