Consider helping out in updating the wiki for 3.12.0 - see Path of Exile Wiki:To-do list/3.12.0.
Game data exports will becoming later as the technical changes in addition to regular changes take some more time.
Absence of Value and Meaning
Absence of Value and Meaning
Map area, Unique Map area
| | |
| --- | --- |
| Id | MapWorldsElderArena |
| Act | 11 |
| Area level | 83 |
| Bosses | The Elder |
| Area type tags | dungeon, temple, urban |
| Tags | indoors_area, map, no_echo, cannot_be_twinned, map_not_on_atlas |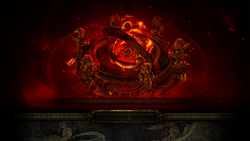 Absence of Value and Meaning is a map area. It can be accessed by using the map fragments:
Monsters
Items found in this area
Item
The Gambler

The Gambler

5

Divination Card

"I don't believe in karma. If it were real, I would never win."

1
The Encroaching Darkness

The Encroaching Darkness

8

Map


Corrupted

No matter where your dreams take you, Nightmare follows close behind.

1
Please see The Elder article for the boss loot.
Version history
| Version | Changes |
| --- | --- |
| 3.1.0 | |